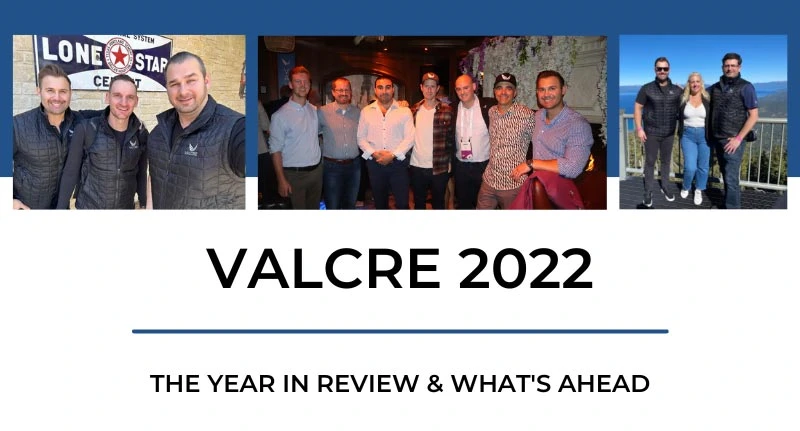 The future of commercial real estate appraisal has arrived, and we have technology to thank. This past year, Team Valcre remained steadfast on equipping commercial real estate appraisers with a top-shelf solution for achieving a higher volume of business in less time. More than 50,000 appraisals were completed with Valcre in 2022; and it is expected that number will increase substantially as we head into 2023 and appraisers continue to seek out the tools that will give them a competitive advantage. Since the height of the pandemic, Valcre has experienced nearly 300 percent increase in recurring revenue, warranting the need for continued scalable growth to keep up with the evolving industry and growing client demands.
Read on for Valcre's 2022 wins and what's ahead in 2023:
Series A Funding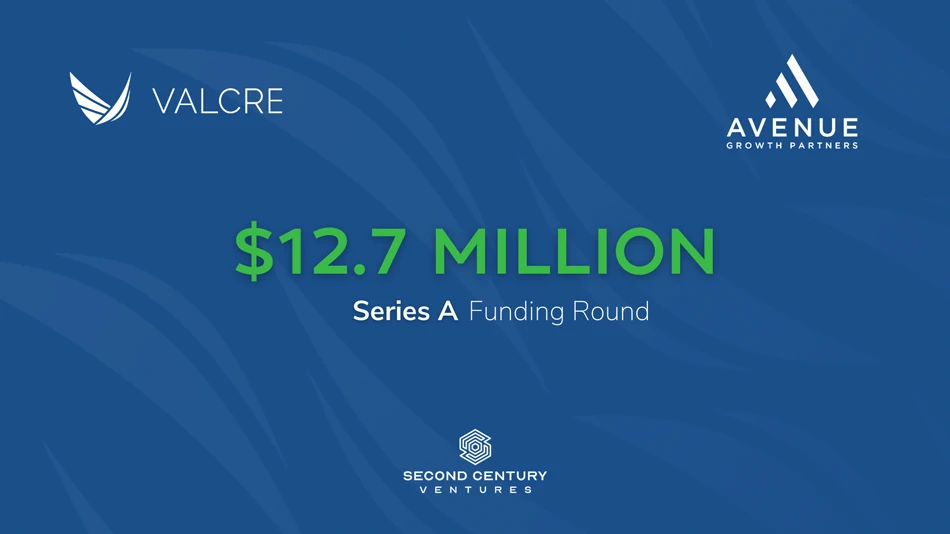 Team Valcre leveled up big time in 2022 with new teammates, powerful software updates, stronger security measures, greater visibility at conferences and events across the country, and a multitude of opportunities to weigh in on important topics facing the industry.

Much of this was fueled by a successful $12.7 million in Series A funding round announced in late fall that was spearheaded by Avenue Growth Partners with participation from Second Century Ventures. The funding is already having major and positive implications for Valcre's ability to increase operations and provide greater service to more customers in the appraisal industry.

Prior to this funding round, Valcre spent six years growing its platform, achieving profitability, and accumulating the industry's leading roster of real-estate services clients including Avison Young, Kidder Mathews, Kroll, Apprise by Walker & Dunlop, RSM, CohnReznick, and several hundred others.

The successful Series A funding is fueling rapid team growth and product innovation and deepening Valcre's commitment to streamlining appraisal workflows throughout the United States, Canada, and Australia for generations to come.
ISO 27001 Certification
After a months-long, rigorous auditing process, Valcre achieved ISO 27001 Certification, confirming that Valcre's information security management system is in line with current international compliance standards and aligned with the internal mission to protect user data to the highest degree possible.

Achieving ISO 27001 certification is just one of many best-in-class security measures Valcre's CTO, Kris Owens, and team of software engineers have taken to ensure Valcre's is providing state-of-the-art data protection. Some of Valcre's additional security measures include 256-bit encryption, two-factor authentication, multi-tier application security architecture, and more.

Valcre is showing no signs of slowing down after this achievement. With the ISO 27001 certification (and recertification), Valcre is eager to continue raising the bar for data protection standards across the appraisal industry. In 2023, Valcre is committed to deploying additional measures to strengthen its data protection ecosystem.
Opinions of Value
In 2022 Valcre remained at the forefront of burgeoning topics and relevant conversations occurring within the appraisal industry. In February, Valcre launched a podcast called "Opinions of Value" highlighting thought leadership in commercial real estate appraisal.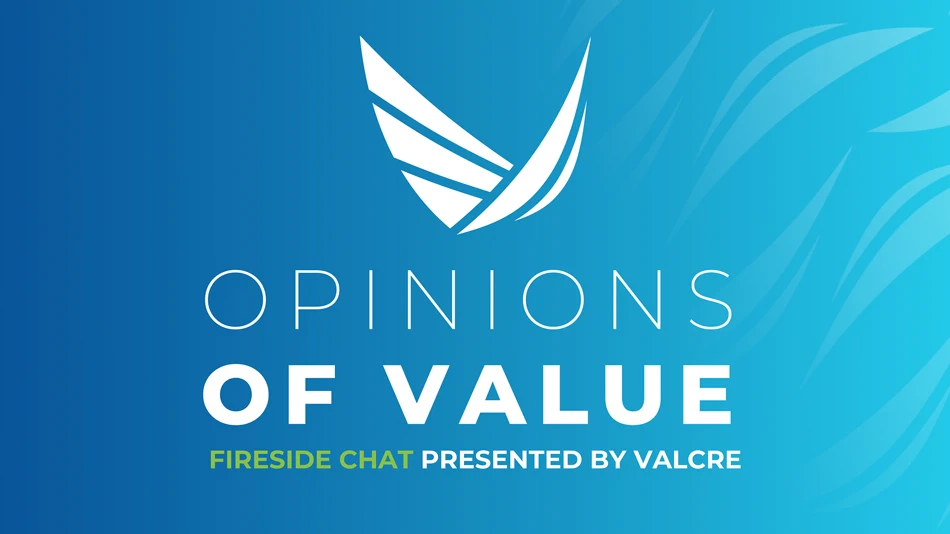 The first episode dove head first into the topic of Valuing Commercial Real Estate During a Global Pandemic. We welcomed special guests, Jacinto Munoz, MAI, SRA, AI-GRS, AI-RRS, Head of Strategy & Compliance at Apprise by Walker & Dunlop; Erika Simmons, MAI, CEO of Archstone Appraisal Group; and Patrick Craig, MAI, MRICS, Executive Managing Director at Marshall & Stevens, on the podcast to discuss how commercial appraisers are navigating the challenges of the current climate, how valuation firms are appealing to a younger demographic of professionals and taking on more business during a global health crisis and the innovative solutions propelling the aging profession into the 21st century.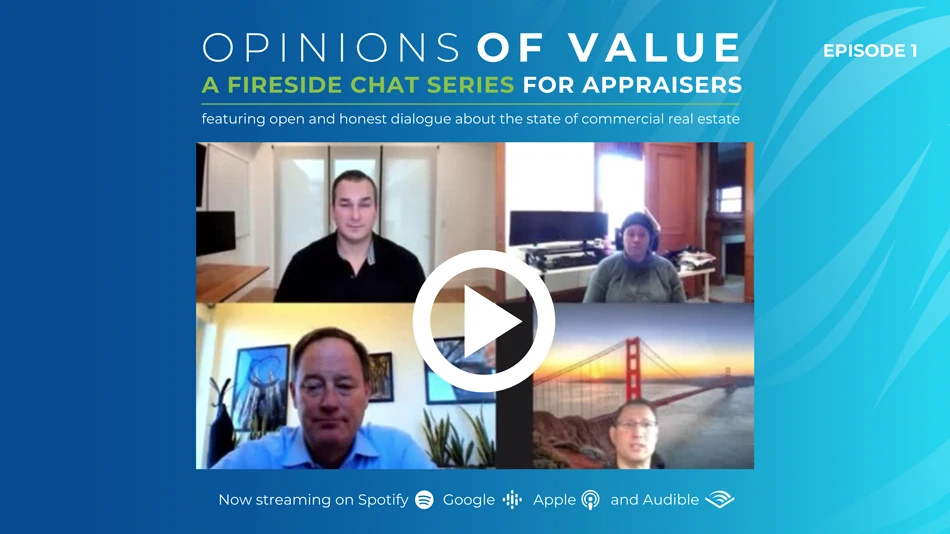 The second episode featured real estate valuation experts Jeffrey Enright, MAI, CRE, SRA, AI-GRS, Managing Director and Shareholder at Kidder Mathews; Jim Newell, MAI, Director of Institutional Valuation at NAI Partners; and Valcre's own Grant Norling, MAI. They shared what they're seeing as far as reactions to the disruption of the office market at the height of the pandemic, how the shift to hybrid work has affected stabilized vacancies and how the majority of appraisers are adjusting their valuation processes to account for the new normal.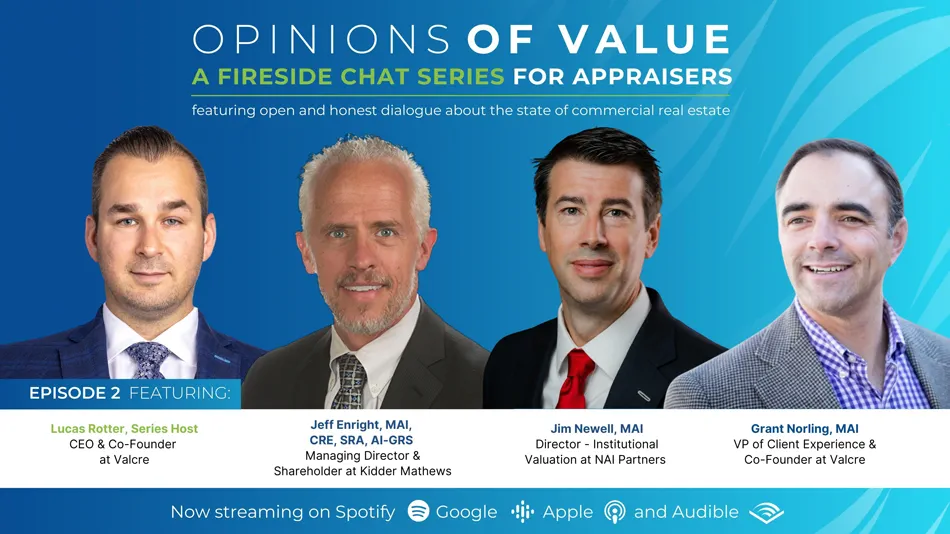 The third episode was a special extension of a panel Valcre hosted during the Appraisal Institute Annual Conference in Las Vegas in August, which dug into technology adoption in the commercial real estate appraisals. Our CEO and Opinions of Value series host, Lucas Rotter, hosted an engaging discussion with Elaine Liz-Ramirez MAI CCIM, Chief Appraiser at Hancock Whitney; Molly Skipper Steele, Head of Strategic Growth at Apprise by Walker & Dunlop; Jacinto Munoz, MAI, SRA, AI-GRS, AI-RRS, Principal at Cogito Realty Partners & Chief Appraiser of Citizens Business Bank; John P. Biordi, MAI, Commercial Appraisal Review Specialist at First Republic Bank; and Grant Norling, MAI, Vice President of Client Experience at Valcre. Together, they dug into the undisputed competitive advantages that come from leveraging commercial real estate appraisal technology and future technology trends that the appraisal industry must adopt or get left behind.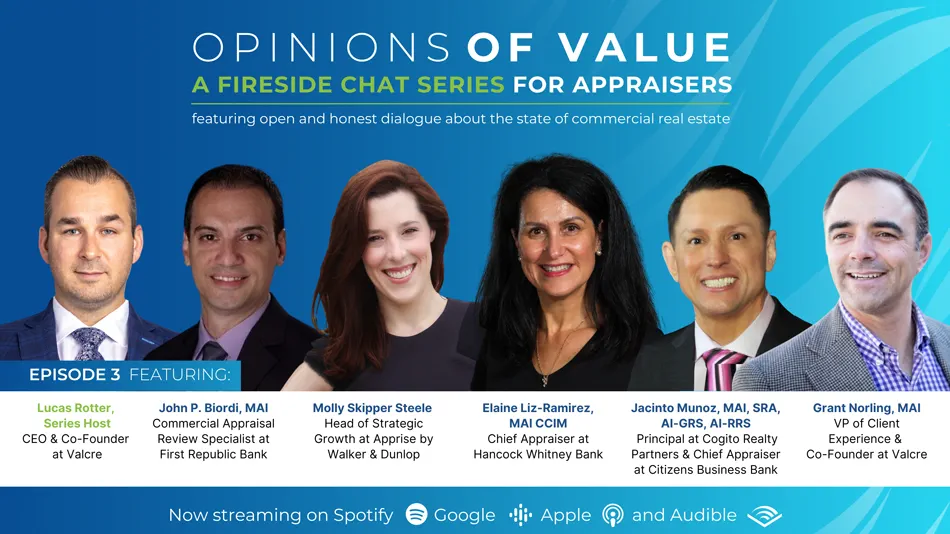 The fourth episode touched on the transformative year that was 2022 alongside special guests: Johnnie White, CEO/EVP at ASA; KC Conway, MAI, CRE, CCIM, Principal/Co-Founder at Red Shoe Economics and Rodman Schley, MAI, SRA, CEO at EvolveX Capital. The episode focused on the state of the appraisal market and what leaders within the appraisal industry are seeing and doing to gear up during an uncertain economic climate.
Season two of Opinions of Value is in production and will launch in 2023. Sign up to be notified when this episode is released: https://www.valcre.com/opinions-of-value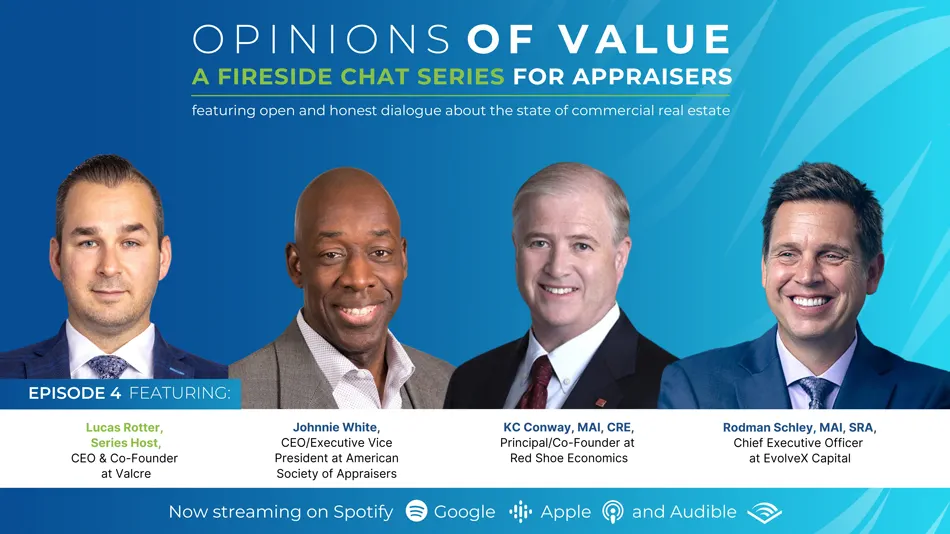 Thought Leadership, Awards, and Media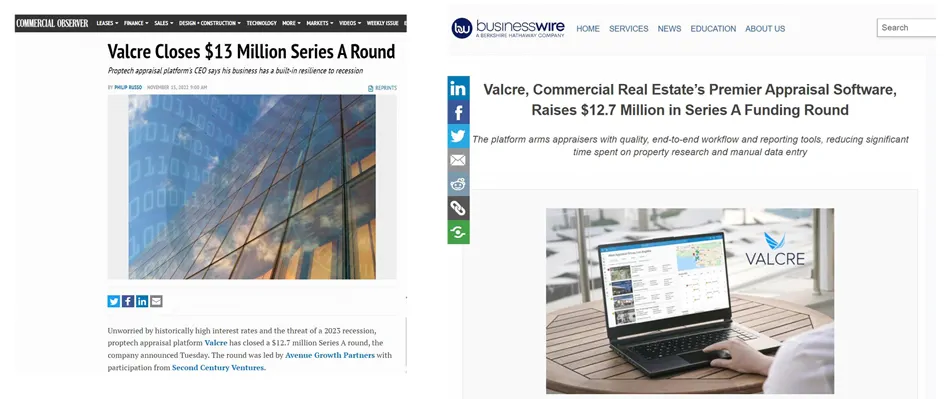 In addition to Opinions of Value, Valcre's executive team played a key role in ongoing media conversations focused on the appraisal industry and technology. Valcre leveraged years of institutional knowledge to discuss trends and offer insights about the state of the market in over 30 business, real estate, and appraisal publications, including:
The Upsides, Challenges of CRE Fintech – Commercial Property Executive
Office Appraisers Find Their Job Increasingly Complex – GlobeSt.
On The Hunt For New Asset Classes – Recurring Revenue, Co-Working, Carbon, Crypto & More – Forbes
A deeper look into the commercial appraisal demands for 2022 – Valuation Review
Diving into data, faster processes await CRE – Valuation Review
Appraisers Are Struggling to Assign Value to Office Properties – GlobeSt.
Two Years After The Pandemic, Much Has Changed. CRE Is Just Fine With That – Bisnow
To Bootstrap or Not: Proptech Founders On When to Take VC Money – Commercial Observer
Next Generation Awards – National Winner – ConnectCRE
Kidder Mathews Enhances Valuation and Appraisal Services With Valcre Software Partnership – Business Wire
Weekend Interview: Valcre CEO Lucas Rotter – Bisnow
Valcre, Kidder Mathews partner – Valuation Review
La Jolla Firm Streamlines Commercial RE Appraisals – San Diego Business Journal
Valcre Closes $13 Million Series A Round – Commercial Observer
Valcre, Commercial Real Estate's Premier Appraisal Software, Raises $12.7 Million in Series A Funding Round – Yahoo!
Valcre, Commercial Real Estate's Premier Appraisal Software, Raises $12.7 Million in Series A Funding Round – Businesswire
Valcre, Commercial Real Estate's Premier Appraisal Software, Raises $12.7 Million in Series A Funding Round – AP News
Valcre Raises $12.7M in Series A Funding – Finsmes
Daily Business Report: Wednesday, Nov. 16, 2022 – SD Metro
Top of the Morning – Axios
Valcre Raises $12.7M in Series A – CityBiz
GoFreight Raises $23 Million, Valcre Secures $12.7M – Dot.la
Valcre has become a respected thought leader and content creator in the commercial real estate industry, led by a team of dynamic former appraisers with decades of combined experience.
Valcre was also nominated for a number of awards in recognition of business accolades. In particular, Valcre's Co-founder and CEO Lucas Rotter was named a rising star by Connect Commercial Real Estate via the 2022 Annual Next Generation Awards for surmounting the hurdles and excelling in business and leadership in the community.
Conferences and Events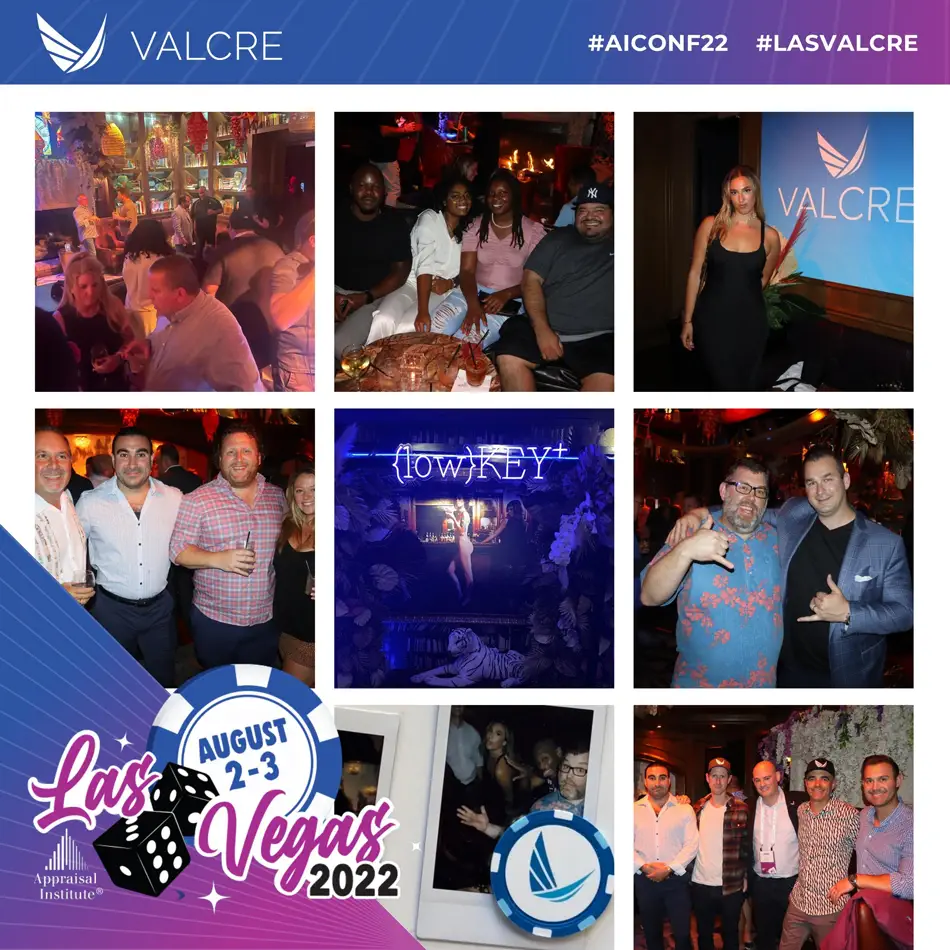 Conferences and events continue to be the focus of Valcre's marketing efforts. Team Valcre stepped into the field at over 30 conferences and events in 2022, and met with talented appraisers across the country.
One of the highlights on Valcre's event tour was once again the Appraisal Institute's Annual Conference held in Las Vegas, Nevada in August. The Appraisal Institute celebrated its 90th year this year, so there was already a lot of hype and excitement going into the event. 14 Valcre's teammates from all over the United States were able to fly in to attend the conference and help celebrate this significant milestone for the industry, along with several exciting Valcre's milestones.
Valcre was humbled by the opportunity to host a breakout session during the conference about tech enablement within the appraisal industry. The session started with a quick industry tech overview from Lucas Rotter before kicking things over to Grant Norling, MAI to welcome esteemed panelists Elaine Liz-Ramirez MAI CCIM, Senior Vice President, Chief Appraiser, Hancock Whitney Bank; Jacinto Munoz, MAI, SRA, AI-GRS, AI-RRS, Managing Director, Principal at Cogito Realty Partners & Chief Appraiser of Citizens Business Bank; John P. Biordi, MAI, Commercial Appraisal Review Specialist, First Republic Bank; and Molly Skipper Steele, Head of Strategic Growth, Apprise by Walker & Dunlop.
The session, "Keeping Pace With Demand: Why Now is the Time for Valuation Professionals to Embrace Modern Technology," drilled down on exactly what it means to be a tech-enabled commercial appraiser and why it matters. (Spoiler alert: if you want to keep up, you need to embrace technology.)
The breakout session undoubtedly made for some lively conversations, as each of the panelists brought unique perspectives given their respective, extensive experiences as fee appraisers and as end-users of commercial appraisals. Valcre later brought the session to life again during an Opinions of Value episode, which you can check out here.
Other notable conferences and events from 2022 included:
2022 CREate 360 SIOR Fall Conference in Dallas, Texas
Appraisal Institute Northern California's Lake Tahoe Conference in California
Appraisal Institute's Leadership Development and Advisory Council Conference in Washington DC
2022 IREM Global Summit in Dallas, Texas
Keep an eye out for Valcre at conferences and events near you in 2023.
Software Developments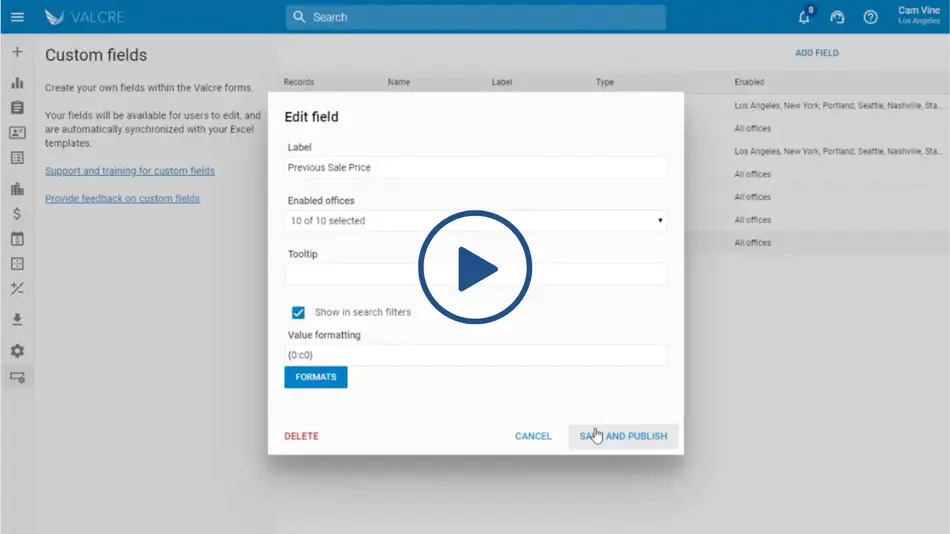 All-in-one technology solutions continue to be a prerequisite for commercial appraisers committed to superior productivity and performance. Valcre's full suite of features contribute to a robust, secure and seamless appraisal platform that saves appraisal operations of all sizes time and money and generates professionally looking reports for clients.
In 2022, Valcre proudly achieved support for new property types, including: affordable housing, c-store / gas station, eminent domain, and hospitality. Senior housing, student housing, subdivision, and condos are all property types in the works for Valcre in 2023.
Additional feature highlights from 2022 include new DCF integrations with Argus and Rockport VAL, importing to QuickBooks, powerful search enhancements, new custom reporting options, nationwide MLS imports, and free access to millions of property and transaction records. The Valcre mobile app continues to grow with voice-to-text, easy driving directions, and an enhanced photo experience.
By providing users with access to reliable, highly accurate property data via Valcre's one-of-a-kind platform, users are better equipped than ever to streamline work and increase overall output, leaving more time for business development and staying on top of the ever-changing profession.
2023 and Beyond
In 2023 Valcre will continue innovating. Technology is the future. Those who keep up and embrace technology will have the competitive edge. With a robust pipeline of new features, functionality and integrations on the horizon, Valcre is here to support appraisers for many years to come.