Choose the plan that's right for you
See below for additional discounts for Appraisal Institute Professionals.
Starter
$67
user/month
billed annually
Track all of your property
and comparable data online
Starter plan
includes:
Property and comps database
Standard datasheets
Mobile app
Public data for 150m+ properties
Import from multiple data sources
Help center and product support
Advanced
$133
user/month
billed annually
Advanced appraisal and property management
Everything in Starter, plus:
Job and billing workflows
Customizable datasheets, and reports
Automated invoices and PSAs
Eval and Restricted reports
Custom fields
Migration of current data
Product support with live chat, phone, and email
QuickBooks export
Standard onboarding
Most popular
Professional
$333
user/month
billed annually
For businesses completing complex appraisals
Everything in Advanced, plus:
Customizable USPAP templates
DCF with Rockport and Argus
Advanced reporting and analytics
Multi-level permissions
3 months audit logging
Tailored onboarding of reports and templates
Custom data importers
Enterprise
For organizations with advanced appraisal and management needs
Everything in Professional, plus:
Specialty USPAP templates
Enterprise-grade security and governance
Single Sign-On (SSO)
6 months audit logging for all users
Enhanced support with SLAs
Premium office management and billing reports
API integrations
Premium onboarding
Pricing tiers cannot be mixed and matched. All users must be on the same pricing tier.
All product pricing is pre-paid annual.
Learn more about Valcre Assist – a recommended white glove service for all tiers.
Download a PDF of our Pricing Guide for your easy reference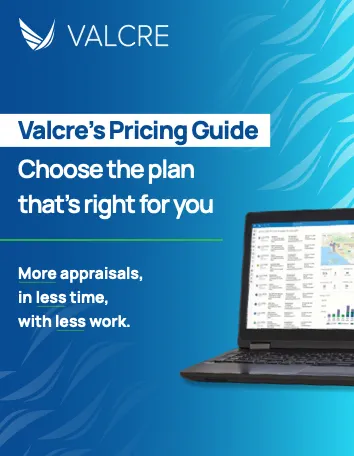 Light training & support
Property database
Lease comp database
Expense comp database
Sale comp database
Survey unit mix database
Comparable datasheets
Our subscribers love the simplicity and affordability that comes with the Starter Package. Our well-designed knowledge base makes interacting with us very efficient.
Basic training & support
Responsive support and basic training from a qualified team is available during business hours.
Professional services agreements
With a single click, generate professional and custom-designed engagement letters.
Custom datasheets
Give your datasheets exactly the presentation you want. We take care of the customization for you.
Job & contact database
This plan comes with the added ability to access and maintain your own jobs database as well as your contacts.
Auto invoicing
Easily generate branded invoices for your jobs that are customized to meet your needs.
Custom reports
Generate custom reports on the fly from any record in the database
Branded Word & Excel
templates
We give your templates the presentation they deserve with your company's logo and styling. This affords you easy recognition by clients and prospects.
Linking software included
Take advantage of our proprietary linking software that syncs Excel and Word templates in seconds giving you peace of mind and saving you time.
Specialty USPAP templates
Access to premium templates – Including Hospitality and other specialized asset types.
Enterprise grade security
Audit logging, 10+ years long-term data retention, Single Sign-On (SSO, MFA)
Portfolio support
Combine 100+ properties in a single portfolio report export with detailed exhibits that can be sent to clients.
API access
Connect Valcre with your own CRM or database using the Valcre API. Take command of your data and provide your team with a single source of truth for all of your assignments.
Enterprise subscription plan
Yearly subscription paid annually
Get started today
Schedule a demo and we'll show you how Valcre can save you valuable time every day.
We're looking forward to working with you.