More appraisals,
in less time,
with less work.
Features guide
This features guide will walk you through the key functionalities of Valcre, showcasing how it streamlines processes, enhances collaboration, maximizes efficiency and is trusted by more than 250 leading appraisal organizations worldwide as the gold standard for appraisers.
Valcre's dashboard serves as the main screen of the database, providing a comprehensive and high-level overview of your firm's activities. It enables quick navigation to all the essential tools and features you need to succeed in the platform.
Appraiser staff tracking
Explore all open jobs color-coordinated by appraiser
Monitor job progress and view key information
Ensure transparency and efficiency in your operations
Track due dates to stay on top of deadlines and deliver timely results to clients
Stay informed and in control of your office's financial health
Generate billing reports to assess each appraiser's contribution and performance
Optimize resource allocation
See the distribution of your staff's workload
Optimize travel routes for inspections to minimize downtime
Monitor and analyze KPIs to track progress and encourage continuous improvement for your team
Project management
Employ a centralized hub for all departments of your operation
Promote accountability and task management
Access a full view of your entire office
Create new jobs and assign tasks to team members
Add contact information for key stakeholders to streamlined communication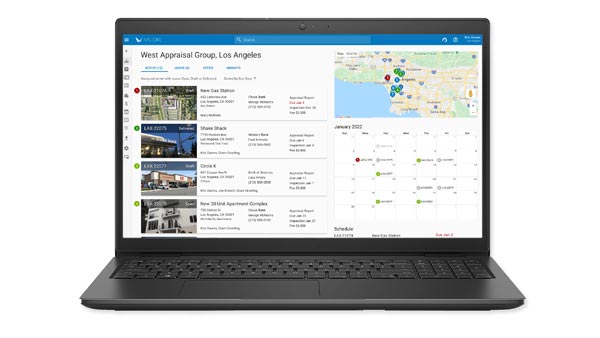 Valcre's cloud database empowers you with efficient data management, extensive integrations, and powerful tools to enhance your property research and make informed decisions effortlessly.
Cloud database
Access your job assignments, contacts, property, and comparable records securely from anywhere
Track current assignments and access and enrich your valuable Job, Property, Comp, and Expense data sets within a single, easy-to-navigate system
Keep your data up to date for accurate and reliable information
Create complete sale, lease, unit mix surveys, and income/expense comparables with ease
Utilize robust search and mapping functionality for quick and efficient data retrieval
Synchronize templates with the online database for seamless data entry and report generation
Automatic data integrations
Access 150+ million public property records at your fingertips with our data integrations
Instantly retrieve parcel information, recent tax data, building details, and sale information to elevate your decision-making process
Benefit from automated integrations that offer data integration with your database at no additional fee
Easily import your property and sales data to streamline your workflow
Data management
Efficiently handle and organize appraisal data with Valcre's integrated data management capabilities
Utilize advanced data search, visualization, and workflow features to optimize your data management
Conduct hassle-free import, organization, and analysis of property data with robust data management capabilities
Swiftly identify and extract relevant information for accelerated data analysis
Job and property records
Get a comprehensive view of each appraisal project with detailed job records
Access property photos, maps, general property information, fee tracking, bid information, staff assignments, permissions, comments, and custom fields
Unlock endless opportunities for expansion and additional relevant information
Manage comparables with ease using the dedicated "Comps" section
Group comps into sets to simplify the process
Upload files, integrate with Argus or Rockport VAL, and export documents with just one click for seamless property management
Property insights and mapping
Integrate mapping functionality into Valcre's dashboard for visualizing property insights and market trends
Deepen understanding of the appraisal landscape and make informed decisions based on visual insights
Utilize mapping functionality to visually represent property insights and identify geographic distribution
Strengthen analysis and decision-making by visually identifying trends, patterns, and market dynamics
Add an extra layer of context and understanding to appraisal data with mapping functionality
Bulk Import and DCF Tools
Bulk import new properties to save time and effort in updating your database
Utilize Valcre's primary mapping tool, powered by Google Maps, for enhanced visualization
Integrate with Rockport VAL for advanced Discounted Cash Flow (DCF) analysis
Seamlessly upload ARGUS Enterprise files for DCF analysis
Employment, Demographics, and Market Analysis
Import data from multiple sources to enrich valuations in Valcre's valuation workbooks
Benefit from multiple integrations with government and public data sources for key employment data at no additional charge
Comparables
Set base adjustments, and your comparables will be adjusted automatically for efficient analysis
Customize any of the adjustments according to your preferences
Benefit from multiple comparable modules, making the platform flexible for each appraisal assignment's needs
Customizable
Customize the database to meet your specific business needs
Custom fields can be added to forms and will flow to reporting and mobile
Custom fields support calculations, including over 400 advanced functions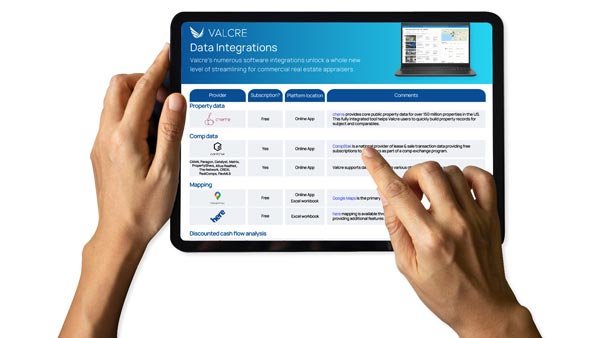 These templates provide appraisers with all the necessary components to work together harmoniously within Valcre, ensuring the creation of consistent and accurate reports.
Automated templates
Valcre's automated commercial real estate appraisal process is fully standardized to increase efficiency and eliminate administrative headaches.
Arm appraisers with the ability to generate sleek, engaging reports and presentations with ease using USPAP compliant Word and Excel templates.
Property coverage
Access templates encompassing 16 diverse property types.
Benefit from templates suitable for office buildings, warehouses, farms, and more, ensuring a versatile solution for varied appraisal assignments.
Accommodate various property types, including retail, office, multifamily, and specialty properties.
Adjust models promptly for specialized assignments, ensuring accuracy in handling unique property characteristics and situations
Standard approaches
Unlock access to a myriad of valuation scenarios, ranging from standard to complex, through the automated template creation process and standard approaches:
Sales comparison approach: For both land and improved properties. Allows for simple or robust presentations and is further enhanced for integration with various multiplier methods commonly used such as a PGRM, EGRM or a GRM Analysis. Additional integrations include modules for an EBITDA analysis and Linear Regression.
Cost approach (simple or complex): Comes complete with an Insurable Value section. Other components integrated within the approach include Replacement Cost New, Cost Comparables, Developer Comparisons, FF&E Analysis, Age/Life calculations for depreciation, modules for various forms of obsolescence, as well as a section dedicated to horizonal or vertical site improvements.
Income approach: Features both the Direct Capitalization and the Discounted Cash Flow methods. This approach can cater to a simple, single revenue stream presentation or support complex, multitenant, mixed-use scenarios which support the use of multiple comparable sets, rent rolls, expense comparables, cap rate comparables, automated real-time interface with various published rate indices, debt analysis and various rate of return analyses. The template system also allows for integration with multiple third-party cash flow software providers, all while allowing flexibility in reporting relative to multiple value conclusions.
Valcre's automated template creating process aids in the consistent production of accurate reporting that meets or exceeds industry standards.
Incorporate visual aids
Present complex data with clarity and conciseness
Support the display of market trends, financial analysis, and property comparisons
Easily incorporate charts, graphs, and tables into appraisal reports
Visual elements boost report readability and impact
Custom-branding
Templates synchronize with our online database ensuring you only enter data once
Benefit from custom-branded Word and Excel templates with numerous data integrations, automated adjustments, one-click mapping, and multiple comparable modules, providing the utmost flexibility and efficiency
Rapid report generation
Professional appraisal reports with minimal effort
Plug-and-play tools for polished report generation
Automated report templates for expedited creation
Database integration with flawless data synchronization
Ensured quality without sacrificing speed
Quick turnaround times for single-property reports or portfolio analyses
Start with one of our report templates and then make it your own
Utilize standard Microsoft Word documents, giving you full control over style and narrative
Sync thousands of data points from Excel to the Word document in seconds
Create custom data points or tables that sync with the report templates easily and quickly.
Utilize extensive client-specific data and analysis configurations
Utilize standard Microsoft Word documents for complete control over style and narrative in your reports.
Integrate data from Excel to Word documents, simplifying the report generation process
Personalize report content
Deliver comprehensive and detailed reports that exceed client expectations
Customize the layout, formatting, and appearance of your reports
Tailor reports to match your branding or specific client requirements
Choose from a range of formatting options, including font styles, colors, headers, footers, and page numbering
Easily incorporate and edit text to reflect unique aspects of each appraisal
Incorporate custom sections to elevate report structure
Highlight key findings and insights for emphasis
Create polished and professional reports with ease

The Valcre Mobile App extends Valcre's power beyond your desktop. Our mobile app works alongside the Valcre platform to help you complete inspections from any device, offering unmatched functionality like effortless picture uploads and reduced data entry time.
Accessibility and flexibility
Access your data securely from any device with an internet connection
View your dashboard with active jobs and nearby properties
Receive job alerts to keep you updated on engagements and clients
Facilitate smooth collaboration among team members and stakeholders
Utilize interactive comment sections, task assignments, and real-time updates to enhance teamwork effectiveness
Complete inspections and reduce time spent on manual data entry
View and edit jobs or contacts in the field
Upload photos, notes, and data, automatically integrating them into reports
Ensure compatibility with all Android and Apple devices
Utilize the voice-to-text feature to caption photos or collect inspection data
Boost productivity and stay informed with no limitations
Key benefits
Perform efficient data entry, property inspections, and collaboration from your mobile device
Conduct seamless inspections with optimized mobile forms and checklists, ensuring no data loss during manual transfer
Enrich subject property and comp data on-site for accurate details
Share critical information, like PSAs, invoices, datasheets, or custom reports
Stay connected and provide timely service to clients, even while away from your desk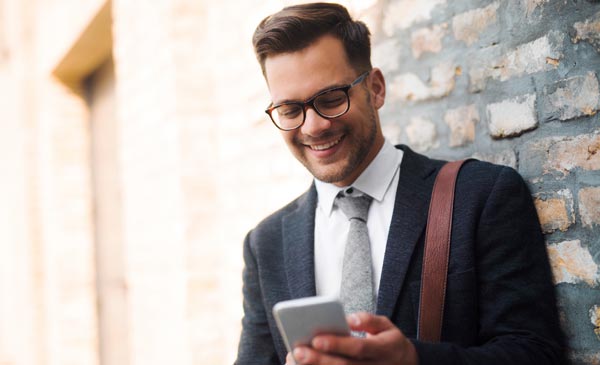 We find that onboarding and continued learning are most effective when accompanied by self-help options and quick, direct access to our support team.
Onboarding
Ease into our platform with an easy onboarding process
Set the stage with an orienting kickoff meeting for your team
Empower your team with expert training and enablement support
Foster a positive and productive platform experience
Ensure your success and satisfaction throughout your journey
Access a wealth of resources and training for effective performance
Help center
Access Valcre's extensive Help Center for comprehensive onboarding and platform assistance
Utilize Valcre's extensive library of self-help videos for quick problem-solving
Get back on track quickly with no interruptions
Live chat
Experience best-in-class support in real-time via live chat
Get prompt and reliable support for technical questions, feature assistance, and best practices guidance
Overcome hurdles and continue with appraisal work without interruption
Experience rapid response times, typically within a minute, often within seconds
Receive prompt resolution of platform-related queries
Valcre Assist
Access Valcre Assist: A white-glove support service for comprehensive assistance
Focus on delivering high-quality appraisals
Increase capacity for taking on more clients and valuation projects
Leverage expertise and resources for greater efficiency and productivity
Receive expert guidance and support throughout the appraisal process
Rely on a team of professionals available to assist with the front-end of the appraisal report, freeing up time to take on more work and expand
Save time with a solution that allows you to focus on more valuable work
Reclaim your valuable time and dedicate it to essential tasks and client interactions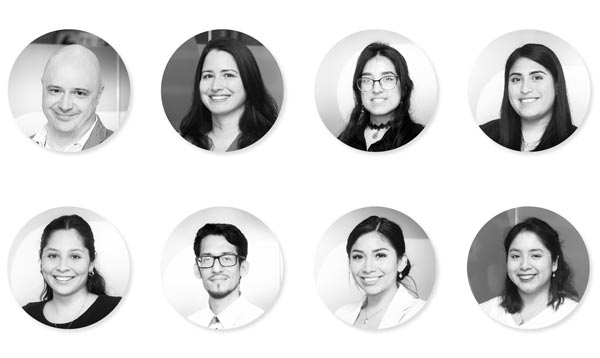 To enhance your administrative processes and ensure a seamless workflow, our platform offers features that focus on invoicing and accounts receivable.
One-click invoicing
Save time and ensure a painless and accurate billing process
Manage invoices and accounts receivables within a single platform
Create, track, and manage invoices efficiently
Reduce the administrative burden on your team
Stay on top of your financials, ensuring timely payments and improved cash flow
Generate professional invoices for clients with just a few clicks
Eliminate manual invoicing and reduce administrative tasks
QuickBooks integration
Connect with QuickBooks
Easily upload your invoices
Eliminate the need for manual data entry

Our commitment to the most rigorous standards of data security is unwavering, ensuring your confidential information is protected at the pinnacle of industry best practices.
ISO 27001 and SOC2 certifications
Bypass challenges and costs with certifications already in place by choosing Valcre
Takes care of the rigorous compliance process, allowing focus on core business operations
Encrypts all data at rest and in transit (via tls/ssl) with tight access controls
Chooses Microsoft Azure as our cloud provider for robust product offerings and security controls
Utilize industry-wide standard protocols for IaC, observability, monitoring, and performance scaling
Implement controls for backup & restore, redundancy failover, and disaster recovery
Protects clients' sensitive information with utmost care
Safeguards client data with industry-leading security standards
Regularly updates software to remain compliant with evolving security standards
Explore our Valcre packages section to discover the plan that best aligns with your requirements and growth objectives.
Starter and Advanced levels: more database-centric
Professional level: integrates the database with Excel and Word templates

Integration with Excel and Word templates
Advanced features and functionality
Audit logging for heightened transparency
Stronger security measures
Portfolio roll-up capabilities
Hospitality features (Enterprise)
Comprehensive back-office tools
Increased robustness and reliability

Enterprise package: offers enhanced robustness
Please consult with our team to learn about features available in the tier you're considering.
Valcre offers a powerful suite of features tailored to meet the needs of mid-market to enterprise clients in the real estate appraisal industry.
By optimizing processes, providing a centralized database, automating report generation, and offering user-friendly integrations, Valcre empowers your organization to save time, increase productivity, and achieve a better work-life balance.
Explore the various packages available and discover how Valcre can transform your real estate appraisal workflow.
Start today
Have a question ?
Call us at +1(800) 888-5882
or email us at www.valcre.com