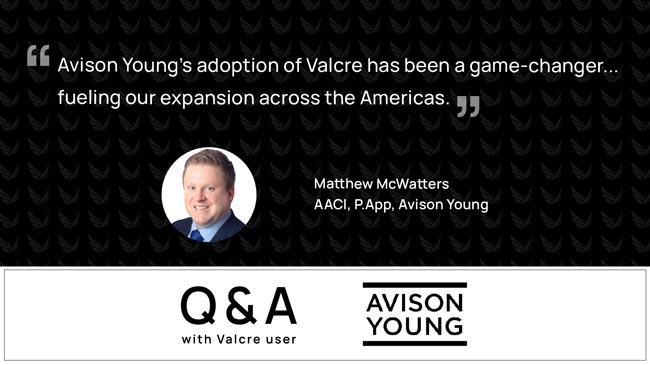 Who they are
THE SITUATION
Avison Young, a prominent appraisal firm, faced significant challenges in their appraisal processes prior to adopting Valcre. They relied on various software tools and lacked a centralized database to host all of the market information included in their appraisals. This resulted in inefficiencies, redundant work, and a loss of valuable time and resources.
One key motivation for Avison Young to seek a solution like Valcre was the need to streamline their operations and maximize efficiency. They recognized that relying on outdated processes hindered their ability to keep up with industry demands and maintain a competitive edge. They wanted a modern solution that would revolutionize their appraisal processes and empower their appraisers to excel in their work.
What they do
THE SOLUTION
Avison Young turned to Valcre to address their pain points and improve their appraisal processes. Valcre provided a comprehensive software platform that consolidated all their appraisal-related tasks and data into one centralized location. With Valcre, Avison Young gained a powerful tool that enabled them to streamline their workflows, increase collaboration among team members, and eliminate redundant tasks.
The adoption of Valcre brought remarkable improvements to Avison Young's daily operations. They were able to create appraisal files, generate engagement letters, and produce reliance letters for banks directly within the platform. Valcre served as a control center, allowing them to monitor appraisers' jobs, track billings, and optimize scheduling. The integration of their sales, leases, and a robust comp database further enhanced their efficiency and data management capabilities.
With Valcre, Avison Young:
The results achieved by Avison Young since leveraging Valcre have been truly remarkable. With approximately 95% adoption across Canada and expanding usage in the United States, Valcre has become an integral part of their appraisal processes. The time-saving benefits have been significant, with reports indicating efficiency gains of 25% to 35%.
Furthermore, Avison Young's partnership with Valcre has facilitated their rapid expansion across the Americas. With Valcre as their trusted technology partner, Avison Young has been able to win more business, increase their billings, and deliver exceptional services to clients. The continuous improvements and responsive support provided by Valcre have been instrumental in Avison Young's success.
Download this case study as a PDF for your easy reference.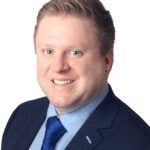 "Avison Young's adoption of Valcre has been a game-changer, enabling us to overcome challenges, streamline our appraisal processes, and achieve remarkable results. Valcre's comprehensive platform has empowered Avison Young to drive efficiency, enhance collaboration, and fuel our expansion across the Americas." – Matthew McWatters, AACI, P.App, Canadian Leader, Valuation & Advisory Services at Avison Young