More appraisals,
in less time,
with less work.
Buyer's guide
Looking to move on from outdated software and gain a competitive advantage?
When you're investing in better software, there are a lot of things to consider: features, customer support, pricing, flexibility, security, expertise, mobile app functionality, and more.
Valcre's premier valuation software has rich features, customization, best-in-class support, and unparalleled security that no other provider offers.
If you are a commercial appraiser seeking a competitive advantage, and want to provide the highest-quality reports in less time, Valcre is a great fit for you.
Learn what leaders in the appraisal industry are doing to stay on top of their game
Can Valcre handle everything from simple to complex appraisals, including
eminent domain, large hotels, and portfolios?
Yes, Valcre supports a wide range of property types and value scenarios. Valcre is also well-suited for particularly scrutinized assignments, such as Eminent Domain, property tax appeal, and litigation projects.
Our competitors may say they "support all property types," but they only have tailored templates for a small subset of types. Only Valcre has tailored templates for the largest number of different property types and portfolios. This includes support for detailed hospitality valuations, portfolio roll-ups for up to 300 properties, and custom regional eminent domain templates.
Detailed appraisal reports require more support and evidence for assumptions and conclusions. Utilizing a platform like Valcre that is specifically designed for an array of property types and valuation scenarios helps you meet client demands quickly and efficiently.
Where does Valcre get data from? Can I add my own data source?
Valcre is a "bring your own data" platform enhanced with multiple data sources. Our onboarding specialists can migrate your current property and job data into Valcre so you can hit the ground running. Whether your current data lives in a database, another software platform, spreadsheets, or PDFs, we can help get you started in Valcre.
When you need to add more data during your appraisal workflow, Valcre makes it easy with integrations with over 15 leading nationwide data providers. Our integration with Cherre allows you to enhance your properties and comps with public data from over 150 million properties in the US – at no additional cost.
Valcre has streamlined integrations for data including:
Subject and comparable property data
Market analytics
Demographics
Employment & unemployment
If you get your data from another provider like a regional MLS, there's a good chance that Valcre already supports it. If not, our solutions team can help build out new integrations that your office can use forever.
For enterprises that have their own CRM or database, they can be connected to Valcre using its open API. Take command of your data and provide your team with a single source of truth for all assignments.
Check out Valcre's Integrations one pager for your quick reference
Which property types are supported?
More than ever before, there's a lot more complexity and diversity around asset classes in the commercial real estate industry. Valcre's templates support a wide range of projects and property types that go far beyond the core property groups. Especially with new support for hospitality and eminent domain, Valcre allows appraisers to take on more projects and expand their business.
Property types Valcre supports:
Valcre includes format-specific templates for:
Appraisal reports
Restricted appraisal reports
Evaluation reports
Rent comparability studies
Fair market rent survey
Portfolio roll-up
Does Valcre have an inspection app?
Valcre's free mobile app allows users to input and handle key inspection details on the fly. In addition to capturing property details, the app allows you to get driving directions, capture unlimited photos and videos, export datasheets, record memos with voice-to-text, and share directly with your clients. The app is available for iOS and Android on phones, tablets and iPads.
Site inspection can be the most expensive part of an appraisal, especially when appraisers need to return to the site for collecting more details or photos. The Valcre mobile app gives you access to all the key property data so nothing gets missed. And your inspection data and photos are automatically uploaded to your database, so you never have to worry about something getting lost.
Valcre's on-site inspection app allows you to:
Get driving directions to a subject site and comps.
Capture photos and automatically upload them to your database.
View job and property contact details.
View complete details for subject properties and comps.
Quickly email or call clients, property contacts, and your teammates from the app.
Access details and maps for comparable sets.
Record memos with voice-to-text.
Easily export datasheets, invoices and PSAs, and share them with clients.
Check out the complete guide to Valcre's on-site inspection app
How does Valcre help my business stay secure?
Valcre knows how crucial careful data handling is for appraisers and their clients. Valcre is certified for both SOC 2 and ISO 27001 by independent auditors, which means your data is safeguarded and protected to the highest degree. SOC 2 and ISO 27001 are the leading international standards for information security, and no other commercial real estate appraisal software company has the same level of certifications.
Additionally, Valcre offers enterprise-grade authentication and security features, including Single Sign-On (SSO), detailed audit logging, and role-based permissions. Security is paramount for the appraisal businesses and Valcre will always strive to lead the industry in data protection.
How does my team get started with Valcre? Is there training available?
One of the best parts about Valcre is the quick onboarding process. Valcre's intuitive software makes it easy for new users to quickly learn and increase their productivity. It takes users five reports or less to get fully up to speed with the platform.
Valcre also has an experienced team that will assist with data migration projects, template customization, breakout training sessions, live chat support, and more. Valcre is known across the industry for providing best-in-class support. Robust data migration capabilities can bring all of your current job and property data, including photos, to your projects right from the start. Our client success team is continuously improving onboarding to make getting started as easy as possible. Video guides all throughout the app aid with the onboarding process at every step. And if users ever get stuck, live chat support and help articles are just a click away.
How do we get support if we need help?
We understand that getting quick support during a time-sensitive appraisal is important. That's why we've made it easy to reach our responsive support team through live chat, email, and the phone. We pride ourselves on our response time and providing the best support in the industry.
Live chat and email support is available Monday through Friday from 9am – 8pm EST, and on the weekends from 9am – 6pm EST. Email support is available 24/7 with quick response times.
Additionally, the Valcre knowledge base includes detailed self-help resources for all users, including tutorial videos, training guides, and recordings of previous webinars.
Check out Valcre's knowledge base with hundreds of video and training guides
Does Valcre have any professional services that I should know about?
Valcre Assist is a recommended white-glove service uniquely designed for commercial real estate appraisers and exclusively available to Valcre users. Valcre Assist saves users even more time by maximizing usage of the platform through front-end appraisal report, research and data extraction and entry services. Valcre Assist is a team of experienced assistants and researchers who complete front-end tasks like general property, zoning and tax research, and local area analysis.
Valcre's professional services team can also help with more complex projects. Common projects include integrating new data sources, creating custom datasheets and reports, migrating data from other databases, and creating reports for special projects.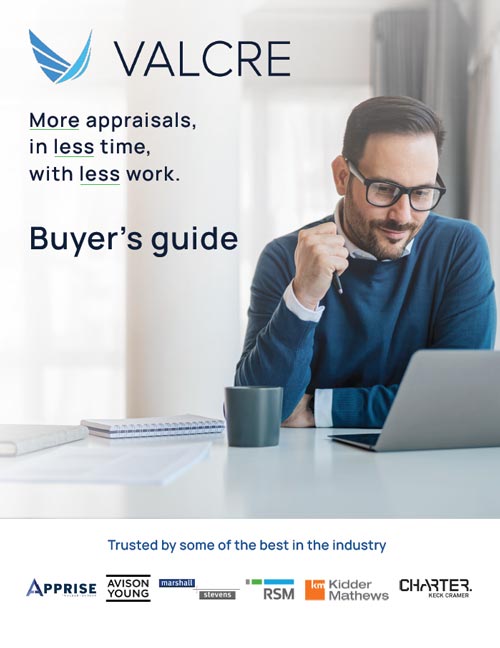 Download the buyer's guide PDF for your easy reference.