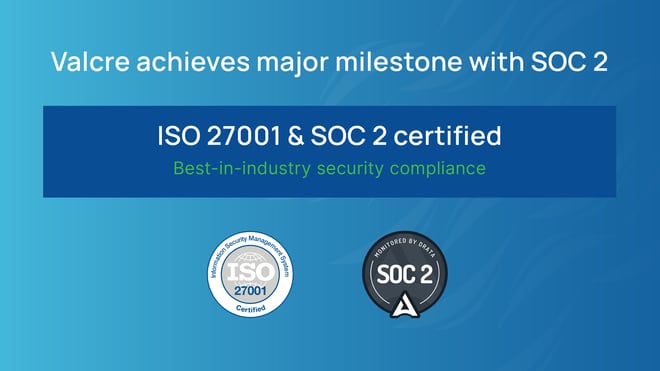 Independent audit confirms Valcre's best-in-industry security standards with SOC 2 certification
Valcre, a leading provider of real estate appraisal software, is proud to announce that it has achieved a major milestone by obtaining SOC 2. SOC 2 is a rigorous auditing standard developed by the American Institute of Certified Public Accountants (AICPA) that assesses the controls of a service organization related to the security, availability, processing integrity, confidentiality, and privacy of its systems.

The rigorous SOC 2 audit was conducted over a period of several months by an independent auditing firm. The audit involved a thorough review of our internal controls, policies, and procedures, as well as our software architecture and infrastructure. The audit looked at five key things: security, availability, processing integrity and privacy and confidence. Valcre's strength in these five areas allowed Valcre to successfully complete SOC 2 in a timely manner.

SOC 2 is a natural progression on Valcre's information and data security journey. Valcre is now at max compliance with the two biggest standards with plans to continue pursuing rigorous audits and certification processes to ensure Valcre's data security standards are the strongest and most robust on the market.
"At Valcre, we understand the importance of data security and the need for compliance with industry standards," said Kris Owens, CTO and Co-Founder at Valcre. "Achieving SOC 2 demonstrates our commitment to providing our clients with high-quality, secure software that meets or exceeds industry standards. Valcre prides itself with having the highest level of security in the industry.

Valcre is proud to have passed the SOC 2 audit with flying colors, which attests to the robustness of our systems and the strength of our commitment to data security. Valcre is the only software company in the commercial appraisal industry with both SOC 2 and ISO 27001 certifications.
Learn what Valcre is best known for.
This achievement is a testament to Valcre's dedication to providing our clients with the best possible service, and we are excited to continue building on this progress. We understand that data security is a top concern for our clients, especially in the current landscape of increasing cyber threats, and SOC 2 is a crucial component of maintaining trust and ensuring that our clients' valuable data is protected.
Overall, achieving SOC 2 is an important milestone for Valcre, and we are proud to have accomplished this feat. We look forward to continuing to provide our clients with high-quality, secure software, and to maintaining our commitment to data security and compliance.