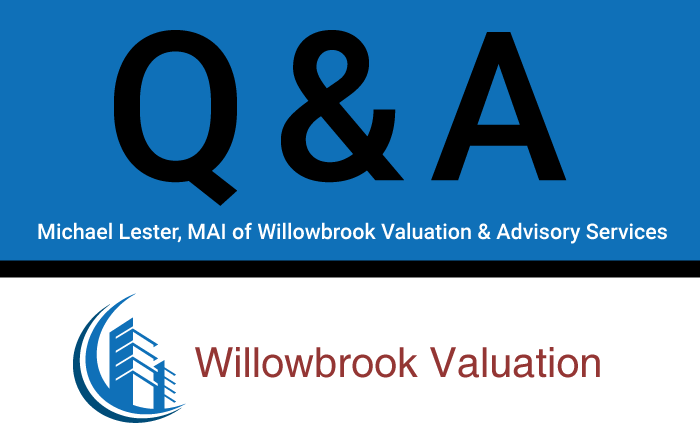 Valcre user, Michael Lester, MAI of Willowbrook Valuation & Advisory Services LLC (Washington, D.C) tells us how Valcre has helped him comfortably transition from a national firm to his own appraisal company in just two years. Read on to find out.
Valcre has a small business feel, but with all of the perks of a national firm. Commercial appraisers interested in starting their own companies can expect one-on-one attention from Valcre's team plus all of the fancy features and efficiencies expected from a national platform.
Tell me about your appraisal company?
Lucas Rotter [Valcre Co-founder & CEO] and I actually knew each other from Colliers International. He went off to setup Valcre maybe about a year or more before I left to set up my appraisal company, Willowbrook Valuation & Advisory Services LLC. It's been just over two years now that I started my company. I've been in the appraisal industry for 20 years, but running my own company is a pretty new experience for me still. Right now it's me and I have an associate.
What was the motivating factor behind starting your own appraisal company?
I'm a pain in the ass. My mantra is that "everyone is better off if I'm in charge!" I'm certainly better off. I think my clients are better off and I think my old bosses are better off because they don't have to deal with me.
What role did Valcre play in your ability to start your own appraisal company?
It helped that a lot of the functionality that I was used to being on a national platform was available to me right off the shelf with Valcre. I would say that some people think they're pretty smart and figure, how hard can it be? but I'm not a software developer and I have a lot of respect for the amount of time and effort that goes into building something like Valcre. I knew I didn't have time to build something myself, so having known Lucas before, I knew that he knew what he was doing, and it gave me a lot of comfort going out on my own knowing that I had the productivity available to me with Valcre that I had left behind at the national firm.
How does your workflow with Valcre compare to what it was like when you worked at the national firm?
It's pretty much the same. I would say the accountability is greater now because I am actually paying for the appraisal service through Valcre directly.
Lucas and his team were very responsive when he was at Colliers, but I think Valcre's response time is just as good, if not better. I'm hearing a lot more about new features and Valcre has a greater receptivity to requests for features from their users. I can imagine Valcre has a lot of users with different ideas of what is important, but I still feel like I'm being heard when I tell them, " I really wish the platform could do x." After that, I usually hear within a few months that the feature I requested has been added.
What was the process like at the national firm if something wasn't working or you wanted to see a feature added?
When things weren't working, the help desk feature at the national firms I worked with was generally pretty good. When it came to asking for new features – with all due respect to software developers – they can be a little bit like monks in a monastery. They just pat you on the head and tell you, " that sounds like an interesting idea, we'll get back to you ," but you damn well know that you're never going to hear from them about it again.
With the Valcre team, I don't get that feeling. I'm directly connected to them through a monthly fee and it feels like they are a lot more motivated to respond compared to an internal IT person, who frankly has a lot of other responsibilities at a national firm than just productivity software.
Did Valcre have an effect on your decision to break out on your own and start Willowbrook Valuation & Advisory Services LLC?
The answer is definitely yes.
You can get in trouble for it, but I think a lot of people have resources like legacy tools available to them after they've left a big firm. They think they can just change it a little bit and use it for their own company. Setting aside the intellectual property (IP) issue, you have to have the right support behind it when things go wrong. For me it was definitely worth the cost – not just for the templates, but also to have a team behind Valcre who could help me get unstuck when things stop working.
What has your overall user experience been like the past two years you've used Valcre?
For the most part it's met my expectations. Valcre has certainly eased my transition in going out on my own. For a while there, I was missing the functionality of integrating discounted cash flow analysis software with Valcre, which my predecessor at Colliers had. Valcre has since added this feature, which has been great.
If I had to mention something that's missing or that I would be looking for, it would be an app. I'm surprised there isn't one already because as appraisers, we're out in the field, taking notes and pictures and looking at maps, so there would be a lot of good potential for integrating an app on a phone with Valcre's current system. I would certainly be interested in hearing more about that if that's in the works.
What is the one feature you like most about Valcre?
Valcre's database is pretty essential. I suppose it's possible you could maintain something like that on your own, but you would need to make sure you have enough capacity and make sure it was backed up adequately. It's comforting for me to know that with Valcre, all my data is secure outside of my office.
Speaking of being outside of your office, what role has Valcre played during the COVID-19 pandemic for you and your team?
Valcre has been essential. My associate and I shared an office until about three weeks ago and we've been working from home respectively since. I haven't really seen much of a shift in our operation because it was already pretty well set up to be able to work remotely thanks to Valcre.
Generally speaking, in what ways does Valcre create value for commercial real estate appraisers?
For any appraiser who does a lot of bank work, there's a lot of pressure on increasing productivity to continue making money. There's downward pressure on fees and downward pressure on turn times, and the only way you can make more money is by being more productive. Valcre helps with this. As an appraiser, if you can't deliver quickly, you don't have credibility and you can't compete.
Would you recommend Valcre to other appraisers?
I would recommend Valcre to other appraisers because I think it's a great support for someone in business for themselves. I'm going to hesitate to recommend it to other appraisers because I don't want them to be able to compete with me! If they're outside of my market, I would have no problem recommending Valcre.
On a scale of one to 10, with 10 being the best, most efficient appraisal platform, how would you rate Valcre?
I would be tempted to give Valcre a 10, but I'm going to hold back one point in hopes that it gets Valcre's attention. That last point is because there isn't an app, which is at the top of my list. I'll hand Valcre a 10 when they tell me where to find the app in the app store.
For more information email sales@valcre.com to get started today.
Michael Lester, MAI is a real estate professional with over two decades of real estate appraisal and consulting experience. His dedication to both fields is clear through the wonderful reputation Willowbrook Valuation & Advisory Services maintains throughout the Baltimore and Washington metropolitan areas.
Mr. Lester has specialized in commercial real estate consulting throughout Maryland, Virginia, Delaware and the District of Columbia over the course of his career. Michael has experience providing appraisal, reviews, rent analyses, feasibility studies, tax appeals and real estate counseling for a variety of property types including hotels, shopping centers, industrial and office properties, as well as subsidized (HAP) apartments and supporting rent comparability studies. He also has extensive experience with HUD insured MAP assignments.