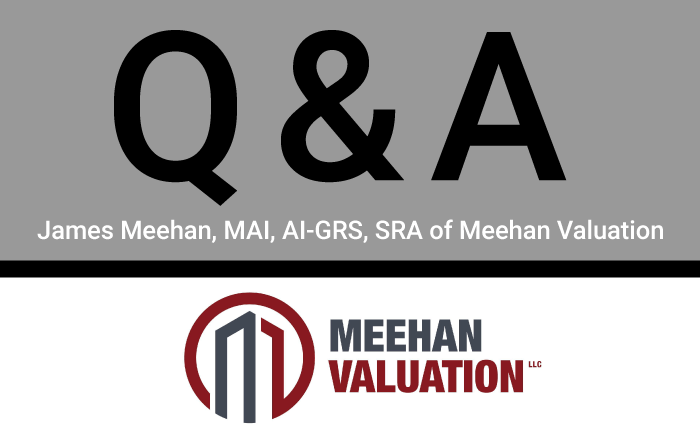 Valcre user, James Meehan, MAI, AI-GRS of Meehan Valuation (Holmdel, New Jersey) receives a lot of inquiries from fellow appraisers interested in adding Valcre's software to their arsenal.
Read on to learn why he thinks Valcre is worth the cost and how Valcre's commercial appraisal solutions has helped him grow his team and increase business in just one year.
How many total staff members?
Meehan Valuation has six total staff right now, but we are planning to add a seventh pretty soon. We have three licensed appraisers, three non-licensed appraisers and one intern.
Tell me about your workflow as a CRE appraiser before you started using Valcre?
Before Valcre, Meehan Valuation used a program called Narrative1.
Valcre's job tracking abilities and dashboard are head and shoulders above any software I've ever used. It's really a superior product to anything I can imagine and before I started using Valcre, I didn't realize this type of interface was available to me.
Everything is lined up for you in terms of what's due, and in a really seamless way. You can see the whole team and what they're working on. Each appraiser is assigned a color so I can quickly identify where each of my team members are at on their projects. The color coding system that Valcre offers is a quick and simple way for me to distinguish which of my appraisers is working on what.
In what ways has your workflow changed since using Valcre?
My workflow has become much more seamless. Valcre saves me a lot of time. You set it up once and that's it. I haven't had to fuss with it much since I first set it up. I especially like the calendar that populates on the dashboard and that there is a lot less clicking around in excel files to get things to work.
How long have you been a Valcre user and how did you first learn about it?
Meehan Valuation has been using Valcre for about one year now. I met Lucas at the Valcre booth in Nashville at the Appraisal Institute Annual Conference in 2018. I didn't think much of it at the time, but Narrative1 started crapping out on me and I couldn't take it anymore so I called Lucas up.
In the year that I've had Valcre, I've managed to quadruple the size of my team and increase billings by 40 percent, which has been made possible thanks to Valcre's software.
What was your first impression when you tried Valcre?
There were some frustrations at the beginning. But the software wasn't crashing and burning and getting hung up on itself like other programs often do. It never crashed on me and by my fourth of fifth job using Valcre I could see how it was going to be helpful.
Once I was up to speed, I started recognizing the platform's time-saving efficiencies whereas other software would have gotten hung up. The Valcre team provided one-on-one support to me and my team and figured out any issues we had on-boarding.
Lucas and his team definitely won me over with their customer service.
At what point did you realize Valcre was a must-have for you?
When my previous software started crapping out, I remembered that Lucas had said that would not happen with Valcre. Of all things Valcre would or wouldn't do, he said it wouldn't crash and that was the main selling point.
In general what has your user experience been like with Valcre? Easy-to-use? Does what it says it will do? Technical support?
On a scale of one to 10 with 10 being the easiest to use, I would give it an a 9.
What do you like most about Valcre? What is the one Valcre feature you could not live without?
I couldn't live without Valcre's dashboard. Valcre is simplistic and our reports are consistent and come out looking really nice. All of Meehan Valuation's clients love it.
In what ways does Valcre's online software create value for commercial real estate appraisers?
The way that Valcre's excel file interacts with the internet creates a ton of value for commercial appraisers. The cloud integration to local files is seamless. Narrative1 would get hung up on this a lot, so the integration capabilities alone have saved me so much time.
As an appraiser and business owner, I have confidence in Valcre knowing tasks will only take me a few minutes. With other platforms, it was pretty much expected that the software would glitch. That rarely occurs with Valcre.
The flow that Valcre offers appraisers is very slick looking – the base template they use, the font, the whole kit and kaboodle. The template is perfect and even with a ton of customization and a million edits, it still looks the same.
Would you recommend Valcre to other appraisers? Why or why not?
Yes, I tell them all the time that it's worth it. They tell me they don't want to spend the money. But I tell them it's worth it, and especially for the look.
People understand and believe me when I tell them about the simplicity of Valcre, but I don't think they believe me when I tell them how good it looks. It's hard to convince people their reports don't look professional. Valcre makes your charts and everything look 100 percent better and they just don't realize it.
Clients pick up my reports and they look like a national report. They look so much better than everyone else's. With Valcre, your reports look national.
For more information email sales@valcre.com to get started today.
Meehan Valuation is a Real Estate Appraisal and Consulting Company within the State of New Jersey. Formed by James L. Meehan, MAI, AI-GRS in 2017, Meehan Valuation is engaged exclusively in providing USPAP-compliant appraisal reports for lending, reviews, purchase price negotiations, equitable distribution, eminent domain, tax assessment, estates, gift & inheritance tax purposes.