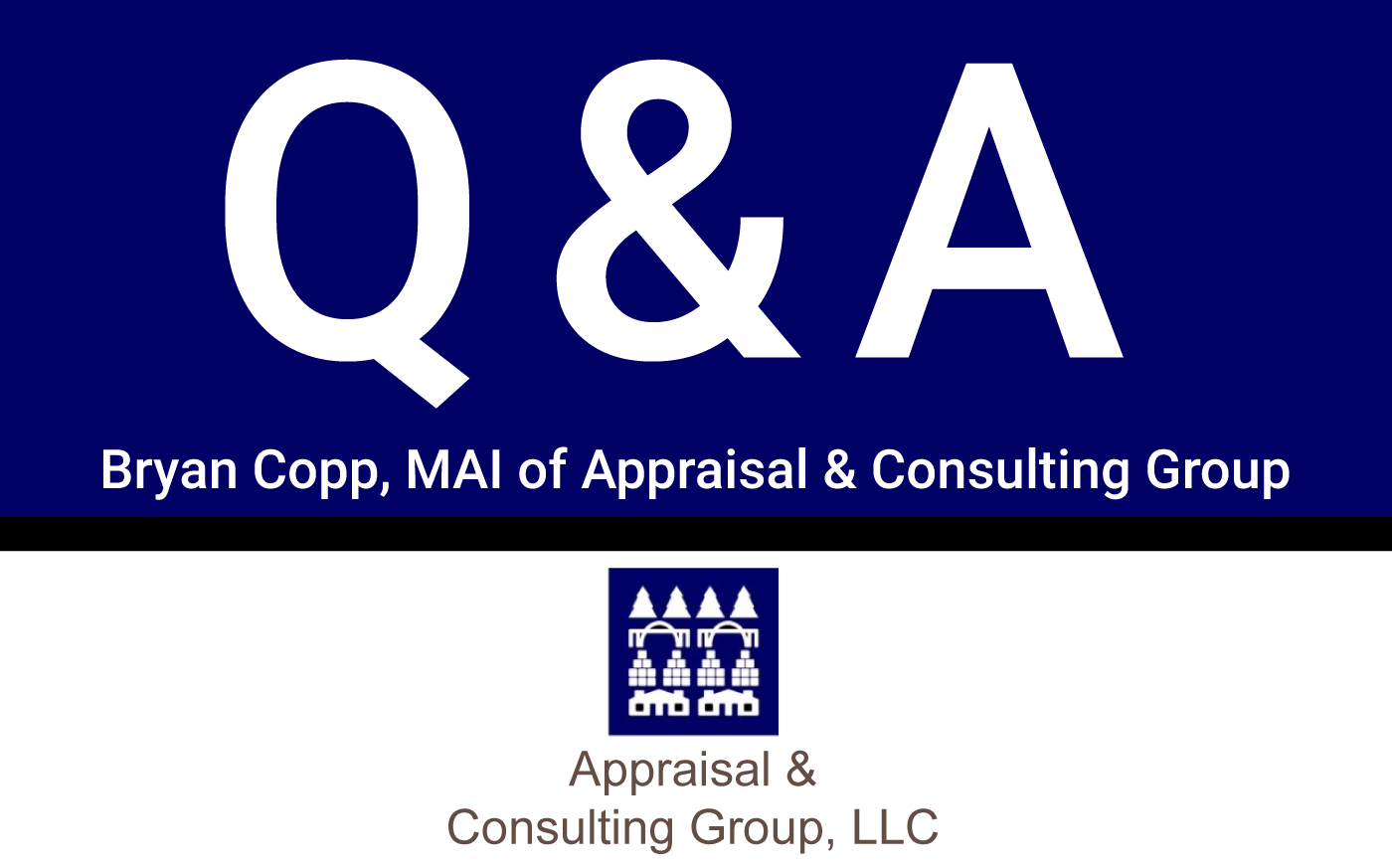 Appraisal & Consulting Group (ACG) has more than 300 years of combined appraisal experience throughout Oregon and Washington state.
The group was formed in 2012 by appraisal legacies, David Groth, MAI, Don Palmer, MAI and David Pietka. ACG's co-op model was designed to give appraisers the opportunity to run their own business, but in a team environment, with shared back office support. Eight years later, the group is now 14 partners and eight staff members strong.
ACG's Managing Director, Byran Copp, MAI's shares how the group leverages Valcre to operate with speed and agility in this highly collaborative environment.
Tell me a little bit about your appraisal career?
I moved out here from Florida after college looking for a new adventure and place to call home. Once I got out here, I didn't really know what I was going to do and was pretty much looking around for a job that sounded interesting. I had printed up some resumes and was walking around downtown when I saw a sign on the door of Palmer, Groth & Pietka – Real Estate Analysts (later PGP Valuation).
I thought, "Oh, this will be my first stop—I'll drop off a resume and kind of break the ice." I walked in, dropped it off, they told me to hang on a minute as they called out Don Palmer. He threw me an appraisal report and was like, "You think you can do this?" As a geography major, I saw the maps and thought "Yeah okay I think I can do that." He interviewed me on the spot and offered me a job.
I literally got a job right then and there. To this day, Don still insists he thought his peers were playing a joke on him by sending in a kid from Florida applying for an appraisal job.
Anyway, that's how I got into appraisal. I appraised for a couple years, met my future wife, experienced Oregon winter weather and we decided to move back to Florida. Got out of appraisal for a bit and worked on a sailboat for a while. When I decided to get back into appraisal (working on boats doesn't pay much) I applied at 20 appraisal firms before Integra of Tampa called me back.
Four or five years later we decided to move back to Portland and I came back to Palmer, Groth & Pietka (when they were being purchased by Colliers International). I hung in for a few years, but it was during the downturn, things were getting pretty choppy and it felt like a good time to try something new and go out on my own with some co-workers. After a few years in a slow market I ended up by myself and was struggling pretty hard to keep my head above water. I knew the group over at ACG and decided it would be a good fit to join the group and allow me to continue building a business, but as part of a partnership.
Now all of a sudden, 20 years have gone by since my first job working as a research analyst at PGP.
Did you have any idea upon graduating college what your career would eventually look like?
I have a geography degree with an emphasis on economics, so I had taken a lot of economics and statistics classes. But I didn't have a clue what I would be doing. I didn't even know what appraisal was. The research is what got me. I thought the title Research Analyst sounded cool. It turned out to be a good fit.
What does the industry look like now compared to 20 years ago when you were breaking into it?
The main difference in the industry today is efficiency. When I first started, we were dropping off film at Wolf Camera and pasting pictures in reports. We had a delivery department that would print out the reports with blank pages where the charts went. Then they would print out the charts in Excel and physically insert them into the report. It was all by hand and really slow. I remember we would actually charge people extra for PDF documents!
At the time, I think top producers were doing $5,000 to $10,000 a month in billings. Everything took longer. Comp research was even worse. You would go to a county assessor's office and look through reams of print outs, searching map/tax lot numbers and codes to identify potential leads. We also had reams of job log print outs in our office that you would use to cross-reference old jobs so that you could pull the file and look for comps. It was very slow back then. It's just so much more efficient now.
How much are top producers doing a month now?
Although fees are the same or lower as they were twenty years ago, production has doubled or tripled.
Our compensation model here at ACG is different from the typical fee split model. We essentially share the monthly expenses as a "desk fee" and keep anything over that. You can either work for yourself or build a team. It's pretty simple.
I understand that you and Grant Norling, one of Valcre's co-founders, go way back. How did you two first meet?
Grant and I both started at Palmer, Groth & Pietka within a month of each other. Back in those days, PGP was the big shop in town. At one time, there were 30-40 appraisers.
Back then at Palmer, Groth & Pietka, it was kind of cool—there was a wide range of ages. There were people in their 60s and 70s that had been doing this forever. There were people in the middle. There were people right out of college. It was like a big family of different ages. They hired a lot of recent college graduates from local economics departments. Essentially, Palmer, Groth & Pietka offered a lot of graduates the opportunity to get into appraisal and receive mentorship and training. Since then, the number of opportunities to break into this profession have declined.
Why would you say the industry has shifted in this way?
I think it's because we're in a commission business, where efficiency is important. And with technology, you can do more with less labor. The larger corporate shops understand this and invest heavily in technology. It is extremely tough for a small appraisal business to try and compete on technology.
Tell me about Appraisal & Consulting Group.
About four or five years after Palmer, Groth & Pietka was purchased by Colliers, some people started leaving and starting their own shops. Don Palmer and David Groth touched base with Dave Pietka and decided to open up a small shop as a place to do their own thing and have some back office support. It started back in 2012 with a few people and slowly they started attracting more appraisers who had heard about it and wanted the flexibility of working for themselves in a team environment.
That's basically how it started, and it grew from there by word of mouth. One or two people joined each year and it started getting large enough to where you're gaining efficiencies and sharing comps and sharing data sources and splitting expenses with everyone. In addition, you have a built-in network of peers for feedback, difficult questions, business advice, mentoring, etc. For example, one feature that is highly valued amongst our partners is our policy that all reports are reviewed by a MAI appraiser before delivery. It doesn't matter how good you are, you always need another set of eyes to review your report.
In our group, everyone runs their own business under a larger group umbrella. We have support staff that handle bookkeeping, IT, invoicing, delivery, etc. A few of us have an assistant trainee. Some of us focus on finance clients and work together to share workflow, while others have their specialties such as litigation, right of way or land use practices. We all manage our book of business independently. For example, we have a partner that likes to travel and will crank out jobs while spending 6 weeks in Spain rock climbing half the day. Other partners are raising families and yet others are approaching retirement. It's a great mix of partners where we all have our strengths and weaknesses, but above all we work together to help each other serve our clients.
How many ACG reps are using Valcre?
All partners are using the Valcre job log and database. We give every partner the option of using the templates or not. Of the 12 partners that actually write reports, I'd say that eight or nine are using the Valcre templates.
How long have you been using Valcre?
I've been using Valcre since 2017. I remember Grant pitched us in the beginning and I was super excited after seeing the demo.
Prior to Valcre, I'd spent years trying to improve my own templates. I got to a point where I thought I was somewhat efficient, but I couldn't ever get past the copy and paste part. I could be efficient on both sides in Microsoft Excel and Word but I still had to copy and paste all the charts in. When I had to make changes, I would have to go back and re-paste things while trying to remember where my numbers were changing. So, when I saw Valcre's linking capabilities and automatic import of comps out of a database; I was hooked. I immediately saw how much time it would save me.
Was it a pretty immediate transition at that point for ACG to begin working with Valcre?
It probably took a month or two. As part of a partnership, you have to build consensus and can't just make quick, unilateral decisions. It took maybe a month or two to get everyone on board. We turned the corner when one of our most experienced partners saw the benefits and became a strong supporter. We started with 3-4 appraisers using Valcre and got other partners to buy into the system after seeing it in action.
Tell me about the onboarding process.
I'd say that within a couple reports we were up to speed on Valcre. Lucas Rotter (Valcre CEO & Co-founder) walked us through a training session and after my first report, I thought the process was pretty intuitive. I'd say the biggest challenge was figuring out where things were in the excel template, but then after maybe two or three reports, it felt like I was getting the hang of it. I felt the onboarding was pretty quick and everything felt intuitive.
What comes to mind about your experience using Valcre now compared to the early days in your career?
The big difference that sticks out is that twenty years ago, labor was cheaper. Shops could hire those with no experience and train them up. With fees staying flat over the past 20+ years, the cost of labor becomes a higher percentage of the job fee. The old model was to leverage up with multiple assistants. When I started you were on salary for a year before you started producing on commission. Today, it's such a commitment to train someone and hope they don't leave. You need someone to be productive right away. Otherwise, you have to speed up and/or outsource some of the low skill, repetitive "front end" tasks.
What is the one Valcre feature you could not live without now?
Being able to create custom data-points that sync between Word and Excel. I've created my own custom templates because I do gas stations and there isn't a template just yet for gas stations. For me, to be able to create my tables in Excel and then drop the content controls in Word and save as a template—that is the most powerful thing for me because it automates. Valcre is so flexible and makes it easy to create any type of report. Whether right of way, condemnation, subdivision, anything specific. You can take your existing template you like, create links and now it's automated. That's the most powerful and flexible feature. We all end up creating custom tables for specific assignments. I can code a custom table in seconds, drop it in the Word doc and know that it will update every time. It also saves you a lot of time on the back end if you change a comp or revise numbers after review comments.
The links piece is number one for me and the comp management system comes in a close second. Being able to search comps and export sets into the Excel template is such a time saver. Even something simple like a broker comp search can be handled in less than five minutes easily. I've saved countless hours on comp searches and exporting comp sheets.
On a scale of one to 10, with 10 being the best and one being poor, how would you rate Valcre?
I'm a big fan of Valcre. I'd put it at a 10. There are always little quirks to any system. I'm acknowledging that it's not perfect, but it's so much better than anything I've ever worked with that it's at the top.
Another thing that I really do appreciate about Valcre is that the team is always trying to make the software better. I really appreciate that. It's not like they sold me an old system they developed ten years ago and its getting further outdated over time.
I feel with Valcre, they are always making their system better; and I really appreciate that they take pride in improving it for their users. For me that really sets them apart. They're always innovating and offering great support. If I have a problem, I send the Valcre team an email and an hour or two later I get a response that it's fixed.
Would you recommend Valcre to your peers or other appraisers?
Yes, definitely. I've recommended Valcre by talking with people who are contemplating the system. I tell them about my experience and what a big proponent I am. After using Valcre, I think I would quit writing reports if I had to go back to cut and paste. I definitely recommend it to other appraisers. It's a great system.
What is the key takeaway you'd want non-Valcre users to know about the system?
I would just say it's an easy-to-use system that is very powerful to gain efficiency. In our business, we get busy and slow—it's like we're all riding a roller coaster. You might get six to eight jobs in, then it gets slow for a while and you're down to one job, then a month later you're busy again. Valcre allows me to expand and contract my pipeline based on work flow.
Our revenue goes up and down every month, so keeping our cost low is important. As a business owner, you always have your eye on controlling expenses and you don't want those expenses to get so high that only the good months pay well and the bad months you're negative. Valcre helps you keep your expenses low and take on more work when it's there.
I would definitely say that Valcre has allowed our partners to either work less, earn more or some combination of both. I think it allows an independent appraisal firm the ability to compete with corporate firms.
Is there anything else we should be talking about or that you'd like to share?
As we've grown, we've found that the more people using Valcre, the greater the synergy of the system and the better it becomes.
For more information on how to keep your appraisal work safe with cloud technology, Schedule a demo to learn more!
Bryan was born and raised in Florida but couldn't resist heading west. After arriving in Portland, he began appraising in 2000 with Palmer, Groth and Pietka as a research assistant. From 2002 to 2006 he worked for a national firm focused on senior housing properties. After returning to PGP Valuation/ Colliers International, he eventually led the industrial team in Portland.
Most recently, Bryan co-founded Multnomah Appraisal Group which later merged with Appraisal & Consulting Group in 2014. He currently specializes in gas stations, convenience stores, car washes, bulk fuel plant, card lock, office and industrial uses throughout Oregon and Washington.