Valcre has been a proud supporter of the Appraisal Institute Annual Conference since our inception in 2017, but this year's conference was extra special for a number of reasons.
For starters, the Appraisal Institute is celebrating its 90th year, so there was already a lot of hype and excitement going into the event. Lucky for Valcre, 14 teammates from all over the United States were able to fly in to attend the conference and help celebrate this significant milestone for the industry, along with several exciting Valcre milestones .
The Annual Conference was held at the Bellagio Las Vegas, Tuesday, August 2 and Wednesday, August 3 and featured a whole slew of conference programming, including dynamic speakers, breakout sessions, networking, knowledge-sharing, a bustling exhibitor hall and lots of good times and great memories with some of the best in the industry.
Las Vegas, aka the "City of Lights," proved to be the perfect destination for an illuminating 2022 rendition of the premier annual event for real estate valuation professionals.
📸 Check out Valcre's full photo album from Las Vegas here.
---
Monday, August 1
Pre-Conference Team Activity
Despite flood warnings, power outages and several flight snafus in the days leading up to the trip, Team Valcre began touching down in Las Vegas just in time for a little pre-conference fun together.
First thing Monday morning the Valcre crew was en route from the Bellagio Las Vegas to the sandy Mojave Desert for an afternoon of ATV trail riding. Nothing says team bonding like piling into a 12-passenger van in triple-digit heat and constant humidity!
Las Vegas ATVs led the way as Team Valcre zipped through the Mojave taking in picturesque mountain views along the edge of the undeveloped Lake Mead Recreational Area.
Here's who made the trip from Team Valcre:
Lucas Rotter, CEO, Co-Founder
Kris Owens, CTO, Co-Founder
Grant Norling, MAI, VP of Client Experience, Co-Founder
Jon Rydberg, Head of Sales
James Raven, Senior Account Executive
Mark Porter, Account Executive – Western
John Ahern, Senior Account Executive – Central
Joseph DiFabio, Account Executive – Eastern
Cynthia Knox, Client Success Manager
Mark Vella, Senior Software Engineer
Justin Schreiber, Valuation Support Specialist
Sarah Mason, Social Media Manager
James Abbott, Lead Quality Assurance Engineer
Kaylin Brown, Executive Assistant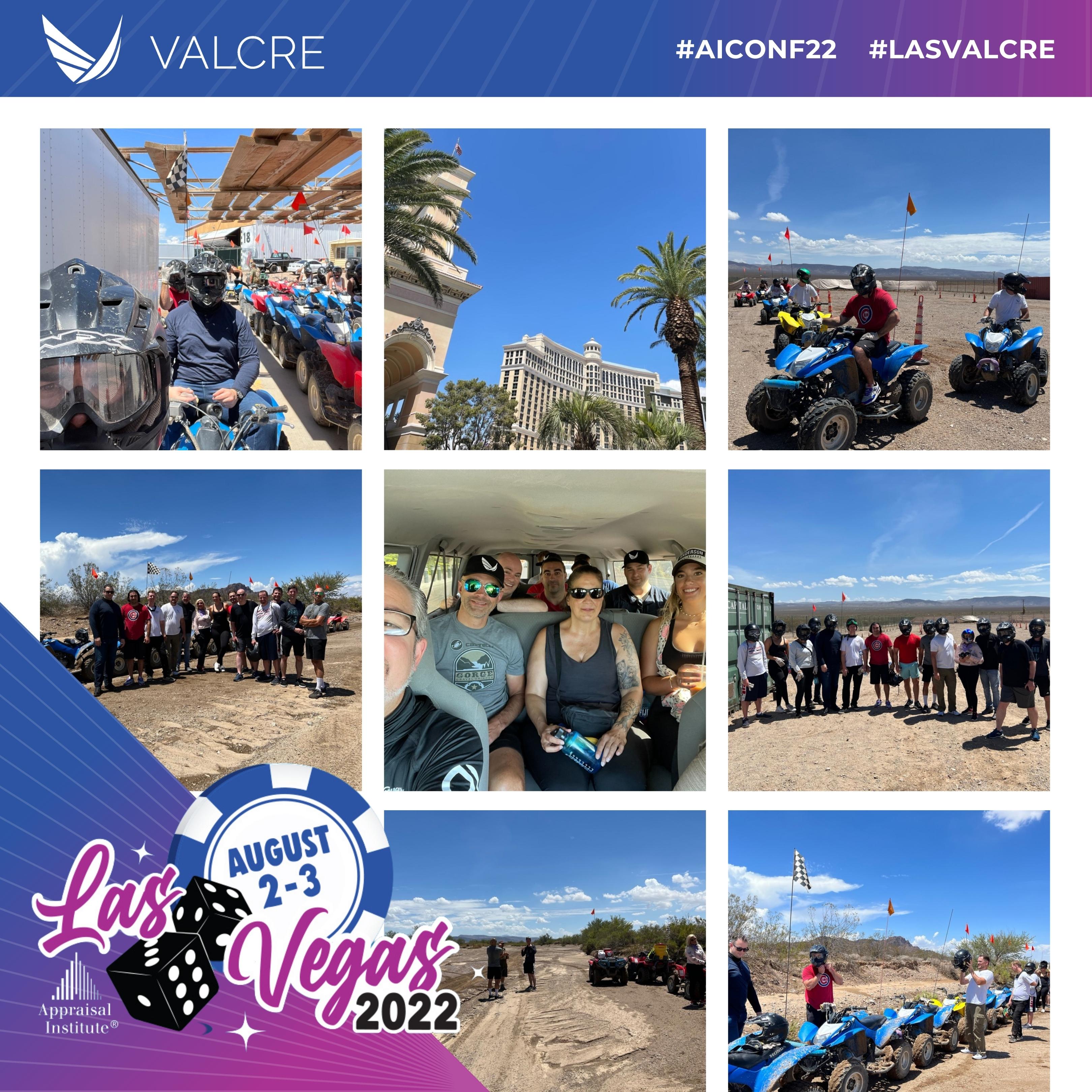 🎬 Watch a highlight reel from Valcre's ATV Trail Ride Adventure:
#LasValcre // Pre Appraisal Institute Annual Conference Team Activity Mojave Desert ATV Tour 🌵🏁🛞 #Valcre #AIConf22♬ sake wind – Official Sound Studio
After an afternoon of ripping around in the desert together, Team Valcre headed back to the Bellagio Las Vegas for Exhibitor Move-In / Installation and Registration.
One of the main themes of the conference – and something that is always top-of-mind for Valcre – is the importance of leveraging technology, so it was both no surprise and awesome to see that the conference would be utilizing EventMobi, an end-to-end event management platform designed to keep conference attendees in-the-know, on-the-go all throughout the event. The mobile app allowed for attendees to view the full conference agenda, connect with other attendees, check out sponsors and access event info at their fingertips.
At check-in, every attendee was handed a name badge and custom Valcre lanyard, so it wasn't before long that everyone at the conference was repping Valcre around their neck!
From there we all headed back to our rooms to freshen up for a team dinner at the iconic Mastro's Ocean Club at the Aria Shops. We wined and dined, toasted to Valcre, to growth, to each other, and to many of us meeting for the very first time. As a 100% remote team, often the only time we "see" each other is through Zoom, so sitting face-to-face with each other was an awesome way to kick off a great couple of days together!
After a delicious meal, Team Valcre dispersed back to the hotel to put the final touches on Valcre's booth in the Exhibit Hall for the morning, and rehearse for the Breakout Session that Valcre would host the following afternoon.
Day 1 would come bright and early and be jam-packed, so we all turned in early to get some good rest.
---
Tuesday, August 2
#AIConf Day 1
Day 1 of the Appraisal Institute Annual Conference kicked off promptly at 7 a.m. with a Continental Breakfast in the Exhibit Hall and opening remarks from Appraisal Institute Board President, Jody Bishop, MAI, SRA, AI-GRS.
Leadership expert and author Ryan Leak then took the stage for a convincing Keynote on the importance of self-awareness and connection, and the possibility that chasing failure may be the quickest way to success.
Below are three standout quotes from Ryan's Keynote:
"Failure loses its punch in community."
"You're only failing if you're failing to learn. Take notes on what's not working."
"We all have intentions of being greater. Become today who you intend to be tomorrow."
Meanwhile, in the Exhibitor Hall, Valcre's Sales Team had a best-in-class setup with multiple screens and monitors going simultaneously so that conference attendees could stop by and check out Valcre's services up close and in action.
There was a constant buzz of old and new friends swinging by Valcre's booth both days—many eager to learn how they too can save 2+ hours every day using Valcre.
In addition to offering demos, showing off Valcre's impressive full suite of features, and sharing how appraisers can level up thanks to integrations like Rockport Val, the Sales Team was running a raffle and handing out some of Valcre's infamous swag, including Vegas-themed poker chips, playing cards, drink koozies and ball caps.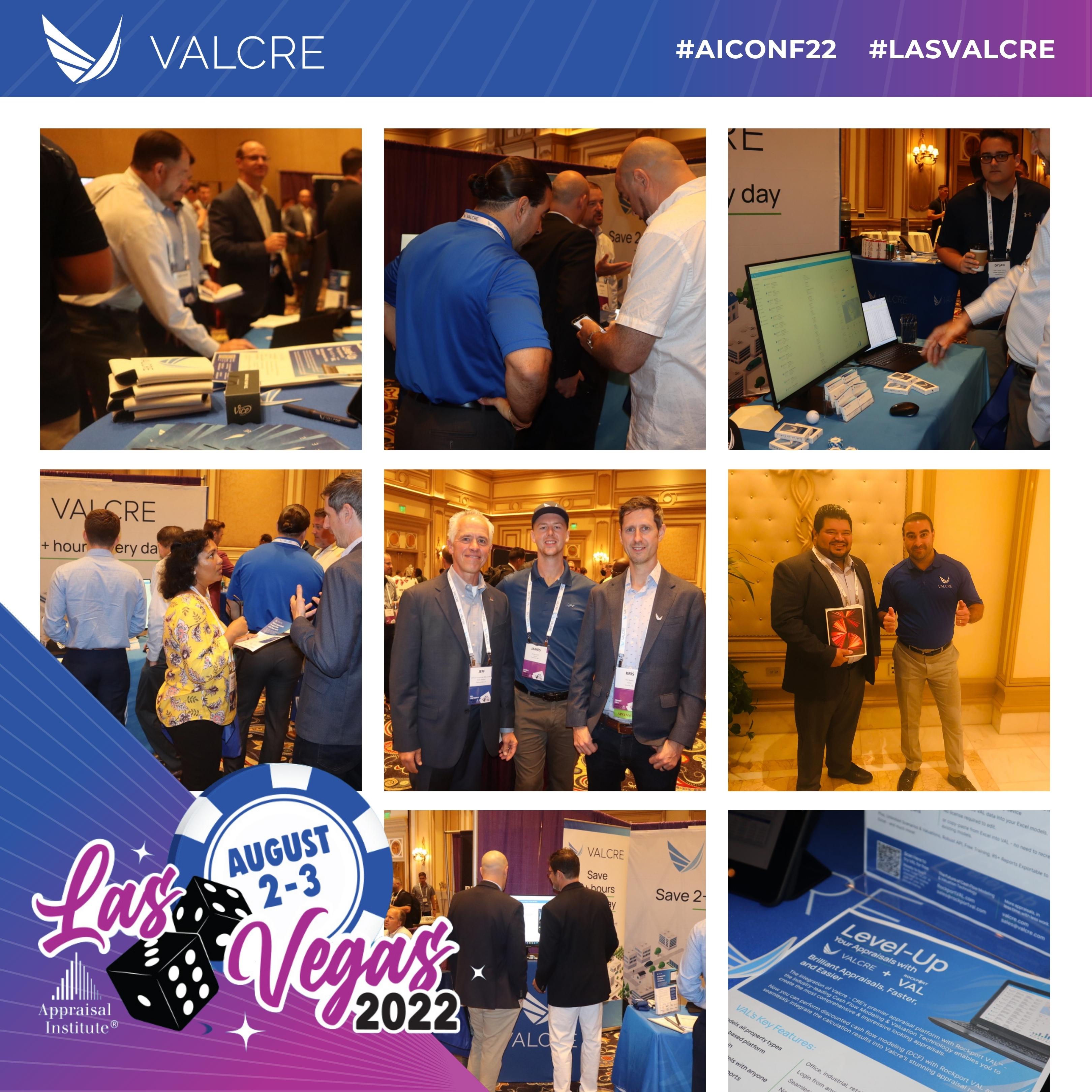 Congratulations to Hector Nieves, MAI, AI-GRS for winning Valcre's conference raffle and taking home an iPad Pro on Valcre!
Valcre's Social Media Manager, Sarah Mason, conducted mini rapid-fire video interviews with appraisers roaming the Exhibitor Hall in an attempt to spotlight the perks of a career as an appraiser.
🎬 Watch Valcre's interviews with appraisers:
#LasValcre // Appraisal Institute Annual Conference Mini Interviews with Appraisers 🎙 #Valcre #AIConf22 #AppraisalInstitute♬ original sound – Valcre
Valcre's Breakout Session
Before it was Valcre's time to take the stage for a panel, attendees made a pit stop at the Lunch Buffet in the Exhibit Hall for some fuel ahead of the afternoon's Breakout Sessions.
The first wave of afternoon Breakout Sessions included:
"Keeping Pace with Demand: Why Now Is the Time for Valuation Professionals to Embrace Technology" … hosted by Valcre!
"Appraiser Diversity Initiative – Progress Made and the Opportunities Ahead"
"Two Birds, One Stone – Working Efficiently with Trainees and Finding Supervisory Appraisers"
"Expert Beware: Calculating Damages Attributable to Environmental Impairment and Detrimental Conditions"
When the clock struck 1:30 p.m., Valcre's CEO, Lucas Rotter, opened up the floor in The Renoir conference room at The Bellagio with a quick industry tech overview before Valcre's VP of Client Experience, Grant Norling, MAI, jumped in to welcome the panelists and share recorded testimonials from industry peers on their respective tech enablement journeys.
The session, "Keeping Pace With Demand: Why Now is the Time for Valuation Professionals to Embrace Modern Technology," proceeded to drill down on exactly what it means to be a tech-enabled commercial appraiser and why it matters. (Spoiler alert, if you want to keep up, you need to embrace technology.)
Each of the panelists brought unique perspectives given their respective, extensive experiences as fee appraisers and as end-users of commercial appraisals.
The Panelists included: Elaine Liz-Ramirez MAI CCIM, Senior Vice President, Chief Appraiser, Hancock Whitney Bank; Jacinto Munoz, MAI, SRA, AI-GRS, AI-RRS, Managing Director, Principal at Cogito Realty Partners & Chief Appraiser of Citizens Business Bank; John P. Biordi, MAI, Commercial Appraisal Review Specialist, First Republic Bank; and Molly Skipper Steele, Head of Strategic Growth, Apprise by Walker & Dunlop.
Seeing what a hot topic "technology" is for the industry right now, the Breakout Session undoubtedly made for some lively conversations. Valcre looks forward to continuing to explore all that it means to be a "tech-enabled appraiser" in today's market. Keep an eye out for a future Opinions of Value episode that will revisit some of the topics covered by the panel.
Here is a sneak peek at the questions panelists were asked during the Breakout Session:
Why is it important that your approved appraisers panel embrace technology?
Do you see any trends for turn times and report consistency for tech-enabled appraisal companies?
What competitive advantages come with being a tech-enabled appraiser?
What does it mean to be a tech-enabled appraiser? What are the basic tools needed?
Why is it important for appraisal data to be consistent with the end-user's data? How do you deal with that now and envision dealing with it in the future?
For appraisal report revisions, do you notice a difference in turnaround time for appraisers that use valuation software?
As an end-user, is it easy to recognize if an appraiser is utilizing report writing software? What are the key differences you are noticing?
What do you say to appraisers who are reluctant to adopt tech because they have a unique way of doing things that "clients really love?"
What tools are available for appraisers to leverage technology while in the field?
What tech initiatives are your company working on right now?
Technology continues to accelerate throughout the CRE industry. As you look toward the horizon, what tech trends are emerging that might leave appraisers behind if they don't become tech enabled?
Special thanks to Kaylin Brown, Mark Vella and Molly Skipper Steele for helping put together the Breakout Session presentation.
🎬 Watch Valcre's full Breakout Session:

🎬 Watch Valcre's Day 1 Conference Highlight Video:
#LasValcre // Appraisal Institute Annual Conference Day 1 Part 1 featuring #Valcre in the Exhibitor Hall, Valcre's Breakout Session & Main Events 🎤♠️ 💻 #Valcre #AIConf22 #AppraisalInstitute♬ VEGAS (LET'S GO TO VEGAS) – Tre Houston
Valcre's After Hours Party
After a wildly successful and engaging Breakout Session, it was time to celebrate!
Valcre has built a reputation over the years for throwing some of the best After Hours Parties that the Appraisal Institute Annual Conference has seen, and Las Vegas was no exception.
In classic After Hours fashion, over one hundred of Valcre's clients, friends, peers and colleagues convened at The Library at Marquee Nightclub inside the dazzling Cosmopolitan Hotel on Las Vegas strip for drinks, hors d'oeuvres, music and good vibes with Valcre.
The top floor venue boasts hundreds of books curated from the famous Strand Bookstore in NYC, a billiard table, a fireplace, and a balcony overlooking the club's Main Dance Floor. It was the perfect hideaway spot for Valcre's VIP guests to celebrate a great day together.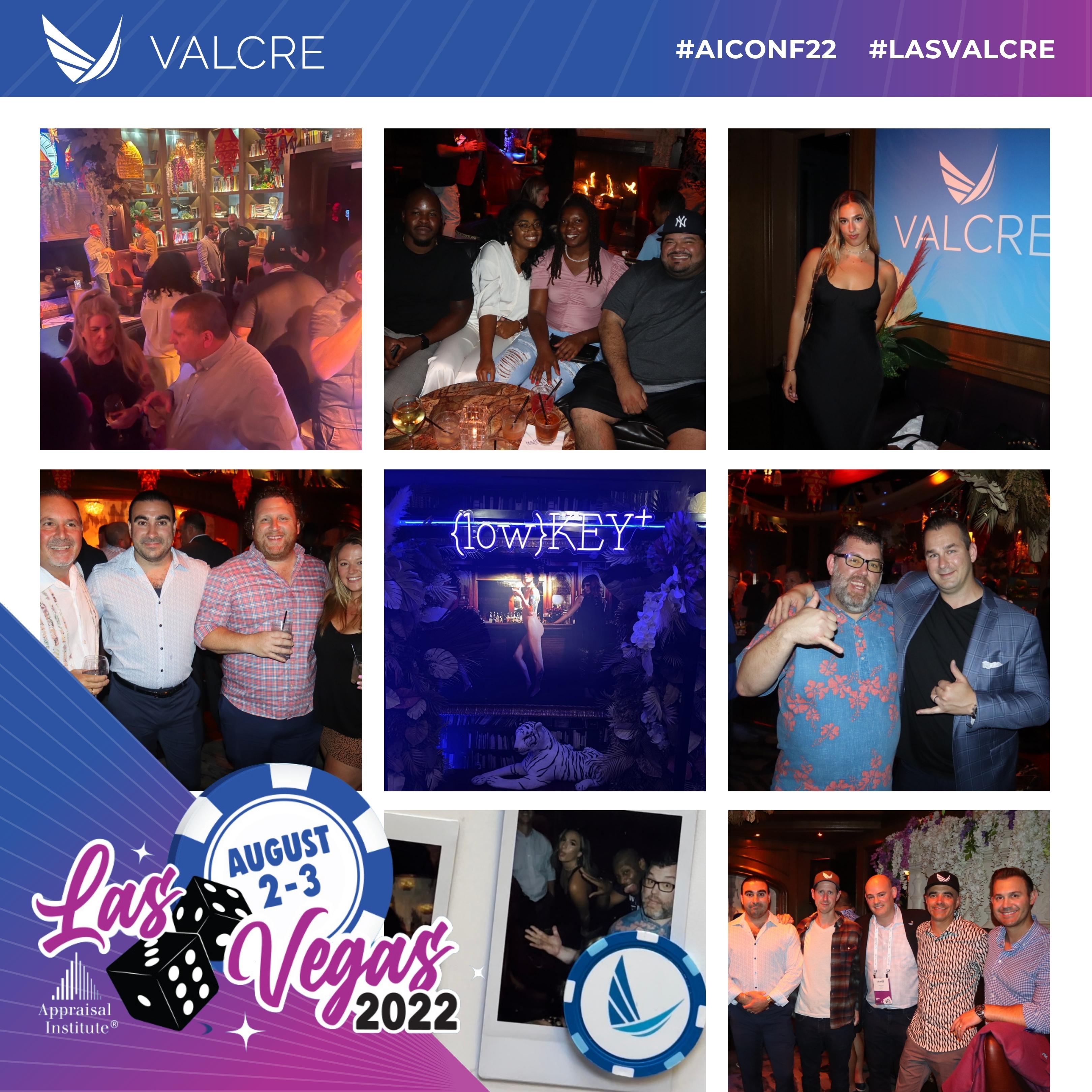 🎬 Watch Valcre's After Hours Party Highlight Video:
#LasValcre // Appraisal Institute Annual Conference Day 1 After-Hours Party Recap ✨ 🥃 🎲 #Valcre #AIConf22♬ BEST NIGHT OF MY LIFE – Brian Thomas Curtin

---
Wednesday, August 3
#AIConf Day 2
After an awesome After Hours Party, Day 2 of the Appraisal Institute Annual Conference came early. Day 2 was a low-key day, all about soaking in some final moments together, recovering from the night before, and recapping how awesome everything was!
The Sales Team held it down in the Exhibitor Hall with more demos and swag, while other Valcre crew members started to pack up and disperse for the airport.
A couple of our favorite Breakout Sessions from this day were: "Valuation of Outdoor Resorts (RV and Glamping Resorts)" and "Leveraging Data and Technology to Stand Out with Customers."
Our industry continues to grow at astronomical rates, requiring that we become increasingly more adept and creative at meeting current demands. Every opportunity we have to learn about how we can better support our appraisers and help our users navigate their work with even more ease in this changing environment is incredibly valuable.
All in all, Las Vegas proved to be an excellent destination for this year's Annual Conference! In only a couple of days the Valcre crew managed to pack a lot in the brightest city in the world and it made for an illuminating experience—learning, connecting and having fun under the twinkling lights! Viva Las Valcre!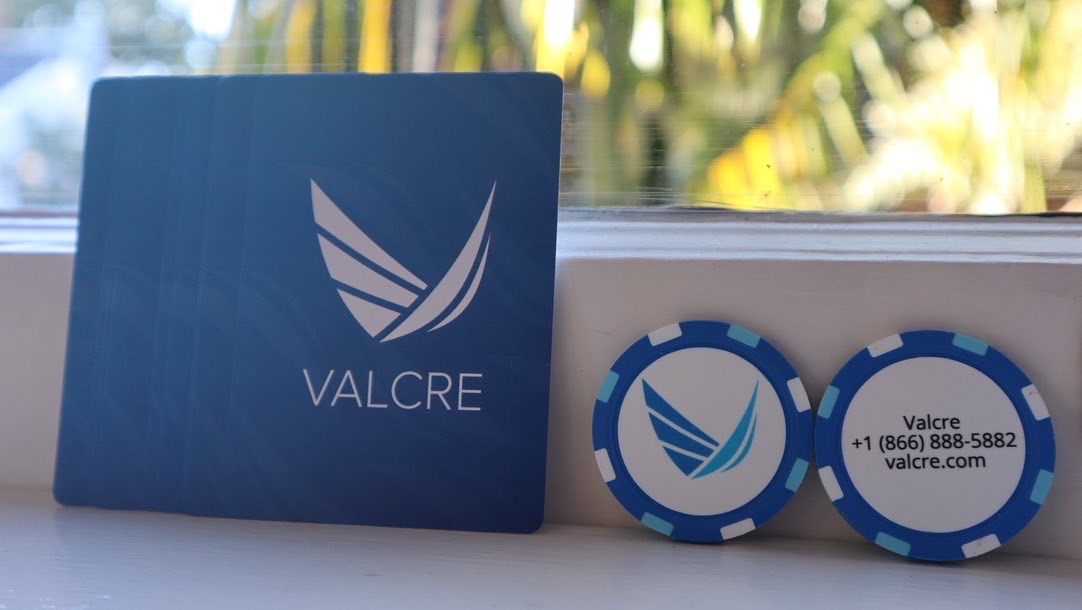 Play your cards right. If you want to learn more about Valcre – drop us a line at sales@valcre.com.
Coming up: Catch Team Valcre at the 2022 IAAO Annual Conference & Exhibition in Boston August 28-31, 2022!
—
Bonus Feature!
A few of the team caught a cool stunt display worthy of shutting the entire strip down for.
#LasValcre // Appraisal Institute Annual Conference Exploring Downtown Las Vegas 🚁🏎 #Valcre #AIConf22♬ Drift Night – Alfianie